June 17 2012
1
17
/

06
/

June
/

2012
07:39
The variety of potting mixes available for house plants at garden centres can be confusing, to say the least. In spite of the fact that potting media is generally referred to as potting soil, most mixes do, in fact, not contain any kind of soil at all. The reason for this is that soil can compact easily, and when packed into a plant pot will end up robbing the plant of the oxygen it's roots need.
The Triple Threat of Garden Soil
Garden soil should never be used as a cheap alternative to potting mixes, because first of all, it will compact and starve plant roots of oxygen. Secondly, the soil may contain the seeds of weeds, which will very quickly thrive and make the pot look like a patch of wasteland. Finally, garden soil may contain insects that may ultimately harm a house plant. This is not how a house plant should be started off in its new home by anyone's standards.
The Benefits of Potting Mixes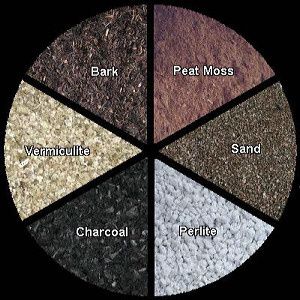 Potting mixes not only provide a house plant with the support it requires to stop it from falling over, they also store and provide the nutrients and water required by the roots. At the same time, potting mixes ensure plants do not get water-logged by providing good drainage, as well as allowing sufficient air to circulate within the potting medium to allow vital oxygen to get to the roots.
What's in the Bag?
Most good potting mixes do not contain any soil, but consist of a base of peat moss or other partly decomposed plant material (hence the term 'potting compost'), such as, for instance, fir bark. As a rule, other components, like sand, perlite and/ or vermiculite are added to this base in order to improve drainage and air circulation.
The Ingredients of Potting Mixes
Peat moss, the base ingredient of the majority of potting mixes available today, is a coarse brown powder consisting of ground up, partly decomposed bog plants. It keeps the mix light and improves overall water retention, making it perfect for plants that prefer a moist potting medium. Begonias, African violets and ferns, for example, particularly like peat moss mixes.
Composted bark, which is easily recognisable within a potting mix as large chunks, assists drainage and also helps to stop the potting medium from compacting, thereby improving air circulation. Potting mixes for orchids and bromeliads typically contain composted bark.
Sand assists in speeding drainage and dries out very quickly, making potting mixes containing sand perfect for cacti, other succulents requiring comparatively little water and palms native to sandy habitats. It is, of course, essential to use washed or horticultural sand, in order to ensure that there are no impurities or salt lkely to damage thee plants contained within the sand.
Vermiculite, which looks a little like small flakes of gold, consists of natural mineral deposits. In addition to assiting air circulation, Vermiculite can also absorb minerals and water at a rate of several times its own weight. The water and minerals are then gradually released back into the mix.
Perlite consists of expanded volcanic rock and looks like little white puffs. Thousands of minute air pockets allow perlite to soak up and release water rapidly, making it perfect for water regulation and drainage. While most potting mixes contain a certain amount of perlite, those for succulents typically have an extra helping of this ingredient.
Horticultural charcoal is used to absorb odours and keep soil from becoming sour in bottle gardens and terrariums. It is only required below the potting mix in enclosed plantings, as they do keep in moisture that may in time cause the soil to become sour if no charcoal is added.
Basically, it is important to consider what a particular house plant needs in terms of drainage and nutrients, and carefully studying the details listed on bags of potting mixes before making a purchase to ensure the right type of mix for the plant is provided.