July 9 2012
2
09
/

07
/

July
/

2012
11:36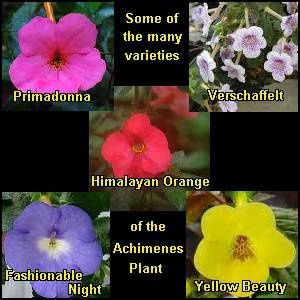 Plant Summary
Botanical Name: Achimenes Spp. and Hybrids
Type: Flowering
Origin: Central America
Height: Trailing up to 30 - 60 cm (1 - 2 ft)
Soil: Equal parts of peat moss, perlite or coarse sand and vermiculite.
Light: Protect plant against midday sun (may cause scorch marks on leaves).
Humidity: Moderate
Temperature: Preferably 18 to 24 degrees C (65 to 75 degrees F). While plant will tolerate temperatures as low as 12 degrees C (55 degrees F), the flower buds will dry up and shrivel if temperatures rise above 25 degrees C (80 degrees F).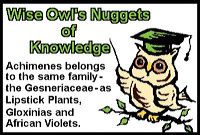 Water: Soil needs to be kept continually and evenly moist. Drying of the soil will lead to plant becoming dormant. Do not water during winter months.
Fertiliser: When blooming, feed plant once every two weeks with liquid high-phosphorous fertiliser that has been diluted to one quarter of its strength.
Propagation: Stem tip cuttings approximately 8 cm (3 in) may be taken in summer. Alternatively, the rhizome may be cut into smaller pieces and potted separately in spring.
Description and Care Tips
Achimenes is available in dozens of hybrids, providing a multitude of colours, including whites, pinks and yellows; reds, purples and violet-blues. Some varieties have flowers with contrasting stripes on their throats.
The flowers will appear on short stems growing from leaf axils. Tubular in shape, they will grow up to 5 cm (2 in) in length and open out into up to 8 cm (3 in) wide, five-petaled trumpets. Although each individual flower will only last for a few days, the plant will produce blooms for several months at a time.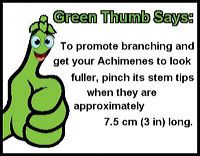 Achimenes carries its up to 8 cm (3 in) long, velvety, deep green and sawtooth-edged leaves in pairs. Because the long stems of this plant are comparatively weak, they will cascade out over the container's edge.
Ideally, an Achimenes plant should be placed into a position where it will receive plenty of light, without being in direct sunlight. Light filtered from a west or south facing window will provide all the light necessary.
The plant needs to be watered regularly during the growing and blooming season, to avoid the soil becoming dry, which will trigger dormancy. It is, however, essential to ensure that the plant is not over-watered, as soggy soil will rapidly result in the rhizomes rotting.
This plant will need rest during the winter months. As flowering begins to slow in autumn, watering should be reduced to allow the plant to die off naturally. The withered, brown stems are then cut off at soil level, using sharp pruners. They should not be pulled off by hand, as this may easily damage the rhizomes.
Once all stems have been removed, the rhizomes need to be taken out of the pot and stored in a cool (16 degrees C, or 60 degrees F), dry place (in a paper bag). In spring - which, by the way, is a good time to propagate the plant by dividing rhizomes - the dormant rhizomes are planted 2.5 cm (1 in) deep into fresh potting mix, which should be kept continually moist.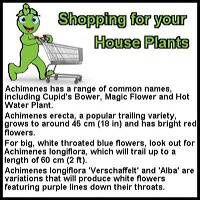 Small or shrivelled rhizomes should be discarded, as they will not grow too well. Dipping the rhizomes in hot water, though not necessary, will provide a good start for growth. This is, in fact, the reason for the plant also being known as the Hot Water Plant.