July 9 2012
2
09
/

07
/

July
/

2012
13:08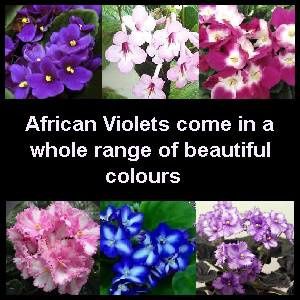 Plant Summary
Botanical Name: Saintpaulia hybrids
Type: Flowering
Origin: Eastern Africa
Height: Up to 15 cm (6 in)
Soil: Peat moss based or specific African Violet mix
Light: Plenty of bright light is required for blooming. Direct sunlight is acceptable in winter, but should be avoided during summer, as it may scorch the African Violet's leaves. This plant will also do well under fluorescent light. Lack of light will cause plant to become leggy and fail blooming. African Violets need rest, too, so eight hours of darkness per night need to be provided in order to keep the plant blooming.
Humidity: High. Setting the plant on a tray with wet pebbles will adequately raise humidity.
Temperatures: Ideal temperatures range from 18 to 24 degrees C (65 - 75 degrees F).
Water: Soil should be kept moist evenly, without getting soggy. Avoid stem rot by watering from the bottom.
Fertiliser: Feed once every two weeks, using a specifically formulated African Violet fertiliser.
Propagation: During spring or summer, take leaf stem cuttings of 2.5 to 5 cm (1 - 2 in) length. The cut end is dipped into water, the hormone rooting powder. The stem is then poked into potting mix, which needs to be firmed down around the stem to keep it standing up. The whole pot should then be encased in clear plastic to keep in moisture. Kept out of direct sunlight, roots should begin to develop within a month, with plantlets forming from the cutting's base after another month or so.
Description and Care Tips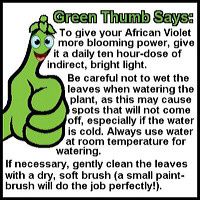 The dainty African Violets, a favourite among flowering house plants because they are such dependable bloomers - given sufficient light and rest, they can be kept flowering for most of the year - form low-growing rosettes of rounded, dark green leaves.
Available in a thousands of sometimes downright spectacular looking cultivars, African Violets may produce single or double flowers; flowers with large, frilly petals or flowers with white edging. Rising above the plant's leaves on their fleshy stems, these flowers come in a whole range of wonderful colours, from whites, pinks and reds through a palette of shades of purple and violet-blue to bi-coloured blooms.
In addition, African Violet cultivars also include micro, miniature and trailing varieties. In short, there is an African Violet to suit any house plant lover's taste.
Caring for these lovely plants is comparatively easy, although it is essential to avoid cold drafts, harsh direct summer sun and over-watering, as all of these conditions will damage the plant. Keeping the potting mix moist, providing sufficient indirect, yet bright light and feeding the plant regularly will keep it healthy and happily blooming.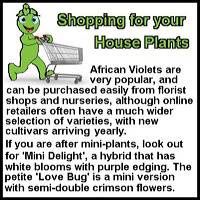 As the leaves age, they will turn brown and shrivel, which is perfectly normal. They should be cut off as soon as possible, because if left on the plant, they may attract fungal disease. Because these plants prefer to be a little pot-bound, it is only necessary to repot once in a while to refresh the potting mix, and the pot used should be roughly half the width of the plant.