July 9 2012
2
09
/

07
/

July
/

2012
20:09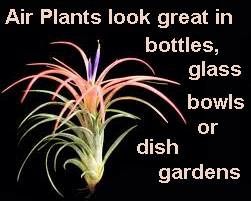 Plant Summary
Botanical Name: Tillandsia ionantha
Type: Flowering
Origin: Ecuador
Height: 15 - 30 cm (6 - 12 in)
Soil: Not required
Light: Air plants love bright light, but direct sunlight is only acceptable in winter, not in summer.
Humidity: Moderate to high. Dry air will cause leaf tips to go brown.
Temperatures: From spring into early autumn, temperatures should range from 18 to 27 degrees C (65 - 80 degrees F). Cooler winter temperatures - around 16 degrees C (60 degrees F) - will assist blooming.
Water: Spray the air plant until it is thoroughly wet (taking care not to soak its base) twice a week. In winter, mist only once per week, or just enough to prevent the plant from drying out.
Fertiliser: Use a foliar high phosphorous fertiliser that has been diluted to half its strength to feed the air plant once every two weeks during spring and summer.
Propagation: Offsets need to be detached and repositioned when they reach about half the size of their parent plant to allow space for new growth.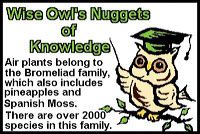 Description and Care Tips
The Air Plant, which is often referred to simply as the Tillandsia, is a tropical house plant belonging to the Bromeliad family. In its native habitat, this plant uses its small roots to attach itself to the branches of trees, where it lives by absorbing nutrients and water through its leaves, as opposed to absorbing them from soil through its roots.
Known subsequently as an epiphyte, this plant should not be placed into potting mix, as this may result in the small roots rotting away. The best places to grow this plant are in depressions or crevices of gnarled wood (driftwood or treated wood are not suitable, as they may contain harmful salt); wired into wreaths or tucked into bowls, bottles or sea-shells. Placing the roots onto sphagnum moss will prevent them drying out.
The thin, arching leaves of the Tillandsia feature red or deep pink, somewhat plume-like bracts and grow in rosettes. In summer, mature plants - it takes around three years for Tillandsias to mature - will produce violet-blue flowers. If a mature plant fails to flower, it may need to be moved to a brighter spot. It is, however, important to avoid direct, hot sunlight, as this may scorch the plant's foliage.
This type of plant will only live for about five years, but propagating the offsets, which are known as Pups and generally grow around the parent, will provide an ongoing supply of beautiful plants.