July 17 2012
3
17
/

07
/

July
/

2012
12:37
Plant Summary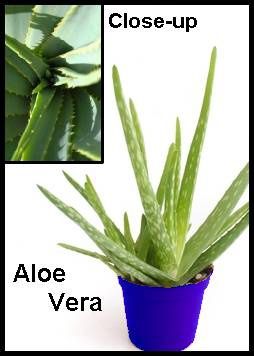 Botanical Name: Aloe barbadensis
Type: Succulent
Origin: Northeast Africa
Height: This plant may grow to a height of between 30 and 60 cm (1 to 2 ft).
Soil: Use one part of coarse sand mixed with two parts of a good general purpose potting mix or purchase a specific cactus potting mix.
Light: Aloe Vera likes bright light, with some direct sunlight during winter. Too much hot summer sun may burn the leaves.
Humidity: Average humidity will keep this plant happy, so as a rule, no special measures to raise humidity will be required.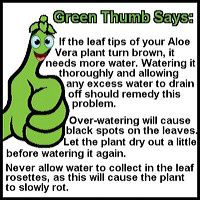 Temperatures: Ideally, Aloe Vera should be kept at room temperatures of between 18 and 24 degrees C (65 to 75 degrees F).
Water: From spring through into autumn, the soil should be kept lightly moist. In winter, it can be allowed to become a little drier, but should not be permitted to dry out completely.
Fertiliser: Aloe Vera plants should be fed with a balanced, general purpose fertiliser on a monthly basis from spring through the summer months and into autumn.
Propagation: New offsets are cut during spring/ early summer and allowed to dry out (this prevents sap from oozing out). They are then potted in sandy potting mix that is barely moist.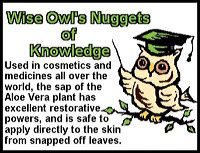 Description and Care Tips
Also known as Medicine Plant or Burn Plant, the Aloe Vera is highly regarded for the healing properties contained within its sap, which can be applied to the skin straight from a broken leaf to soothe abrasions and minor burns.
The upward-curving, plump leaves of this slow-growing, hardy plant grow in rosettes and are green with faint spotting and an edging of soft teeth. While Aloe Vera plants rarely bloom when kept indoors, outdoor plants may produce tall spikes with tubular yellow flowers in spring.
Fairly trouble-free and easy to grow, this plant likes to be in a bright position, although it should only be allowed to have direct sunlight in the winter. If the plant is to be moved outside, it should be moved gradually, as sudden exposure to sun may burn it.
Aloe Vera needs to be regularly checked for pests. Any infestation with mealybugs or scale insects - something to which this plant is prone - should be treated immediately. In spring, young plants need to be repotted as they outgrow their pots, and over-crowding can be avoided by removing and separately planting offsets.