July 17 2012
3
17
/

07
/

July
/

2012
21:52
Plant Summary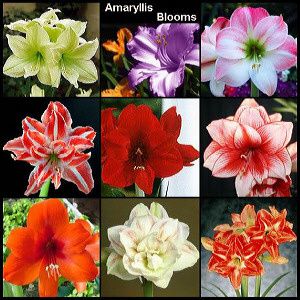 Botanical Name: Hippeastrum spp, hybrids
Type: Flowering
Origin: South America
Height: Amaryllis plants grow up to around 30 to 60 cm (12 to 24 in) in height.
Soil: A good quality potting mix will be perfect for your plant.
Light: This plant likes plenty of bright light and is quite happy in full sunlight during its growing season.
Humidity: Average humidity will be adequate for this kind of flowering house plant.
Temperatures: Comparatively cool temperatures of between 13 and 21 degrees C (55 to 70 degrees F) are preferable if this plant is to remain healthy.
Water: During the growing season, the soil should be kept moist fairly evenly, without taking the risk of the soil becoming soggy.
Fertiliser: Dilute a liquid high potassium fertiliser to half its usual strength and use this mixture to feed your Amaryllis every two weeks.
Propagation: Offset bulbs growing around the parent bulb should be left in place for two seasons, then broken off and planted in their own pot to propagate this plant.
Description and Care Tips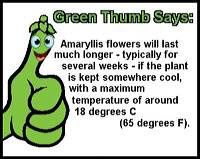 Because the over-sized, magnificent flowers of the Amaryllis have such a festive appeal, the bulbs are often sold in ready-to-grow kits during the pre-Christmas season. Easy to force into bloom during mid-winter by planting each bulb into a pot that is just big enough to hold it, with approximately a third of the bulb remaining above the top soil line, Amaryllis will start flowering within six to maybe eight weeks from planting.
After the initial thorough watering, further watering should be done sparingly until the flower stem begins to show to prevent the bulb from rotting. When the stems start appearing, it is important to check frequently if watering is required, as flowering plants do tend to be quite thirsty.
A single stem typically produces four very large, trumpet-shaped flowers in a range of colours, from white and yellow through pink and salmon into deep reds. Some varieties produce blooms with contrasting edges or stripes, while others may bring forth double blooms, and some of the larger bulbs may produce two stems.
The strap-like, long leaves of the plant will appear some time after the flowering stems have grown, and should be left on and watered/ fed for a while in order to nourish the bulb. After a while, watering is reduced until the leaves die off.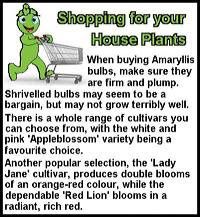 Once the leaves are brown, they can be cut off and the bulb needs to be stored in a paper bag for a minimum of two months in a dry, cool place (around 10 degrees C/ 50 degrees F) before planting it again for another crop of flowers. With a little tender loving care, Amaryllis plants will produce crops of gorgeous flowers for many years.