July 18 2012
4
18
/

07
/

July
/

2012
12:31
Plant Summary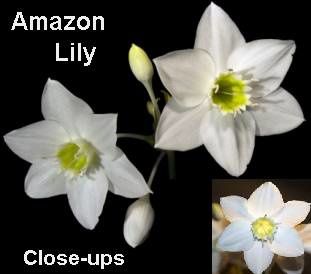 Botanical Name: Eucharis x grandiflora
Type: Flowering
Origin: Peru and Colombia
Height: The Amazon Lily grows to a height of around 60 cm (2 ft).
Soil: This plant will thrive in a humus-based, rich potting mix with coarse sand added for adequate drainage.
Light: Bright light is essential for this hose plant, but direct sunlight should be avoided.
Humidity: There are no special requirements as far as humidity goes, as average humidity levels will be sufficient.
Temperatures: Average room temperatures of around 16 to 24 degrees C (60 to 75 degrees F) will be perfect for the Amazon Lily.
Water: During the growing season, the plant will need to be watered generously to keep the soil continually and evenly moist. Water should be provided sparingly while the plant is in its resting period.
Fertiliser: Dilute a liquid high potassium fertiliser by half and feed your plant once a month during spring and summer.
Propagation: Offset bulbs can be detached and planted separately with their nose barely covered. Newly planted bulbs should be watered sparingly to begin with, only increasing the amount of water when new growth appears.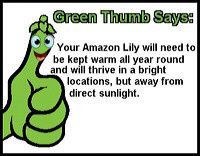 Description and Care Tips
Surprisingly, the Amazon Lily - a member of the tropical flowering Amaryllis family - is often overlooked as a house plant, although it typically thrives indoors.
The leaves of this evergreen hybrid are glossy, deeply veined and will grow to approximately 30 cm (12 in) in length. While this plant is beautiful even when not blooming, its snow-white, star-shaped flowers are a stunning sight. Usually appearing in summer, the flowers are reminiscent of Narcissus, with each bloom featuring a green-tinged cup in its centre.
Around 8 cm (3 in) in diameter, these flowers appear in clusters on upright stems. Although these stems are comparatively thick, they may require staking to hold them upright during flowering. After blooming, the Amazon Lily requires a resting period. Watering should be reduced and no more fertiliser should be given until spring, when normal care can be resumed.
Occasionally, this plant may produce a second crop of blooms during fall or winter, but even if it fails to do so, it can be expected to bloom again in summer.
As this lily thrives in fairly small containers and will flower best when it is pot-bound, it only requires repotting once every three years or so, just to refresh the soil it is in. This is also a good time to remove and separately plant offset bulbs.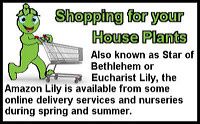 It is certainly worth giving this type of lily a try, as it is easy to grow and will provide beautiful flowers for years to come. The main point to remember is to provide good drainage in order to prevent over-watering.