July 18 2012
4
18
/

07
/

July
/

2012
19:15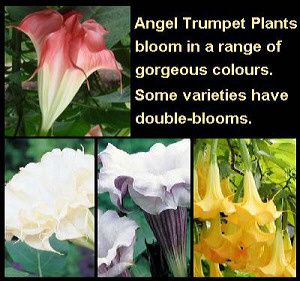 Plant Summary
Botanical Name: Brugmansia x candida
Type: Flowering
Origin: Both hybrids and parents are native to the subtropical regions of South America.
Height: At heights of up to 1.8 m (6 ft) and widths to match, Angel Trumpet Plants require lots of space.
Soil: Any high quality potting mix will keep this plant happy.
Light: This house plant loves plenty of bright light and should be given at least four hours of direct sunlight each day.
Humidity: Angel Trumpets love moderate to high humidity. Keep levels at around 50 per cent relative humidity or above to see your plant thrive. Raise levels with a room humidifier or a humidity tray.
Temperatures: Temperatures of between 18 and 27 degrees C (65 to 80 degrees F) are required to keep your plant well, as it does not like to be cold. In winter, it will just tolerate temperatures of around 10 degrees C (50 degrees F).
Water: Water regularly and thoroughly from spring into autumn. When growth slows during winter, cut down a little on watering to give the plant a rest.
Fertiliser: A liquid high-phosphorous fertiliser needs to be diluted by half and fed to the plant once a fortnight from spring through to autumn.
Propagation: In early spring, take stem tip cuttings - approximately 8 to 10 cm (3 to 4 in) in length - and allow them to root in moistened soil. For best results, propagation will require a heat mat.
Description and Care Tips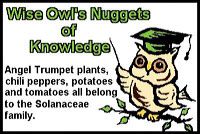 The Angel Trumpet Plant, a tropical evergreen that boasts extremely fragrant, large trumpet shaped flowers throughout summer and into autumn, requires plenty of sunlight, high humidity and warmth to thrive. Ideally kept in a sunny window, a sun room or a greenhouse, this plant can be placed onto a sunlit patio or porch during the summer months, as keeping it indoors may result in the fragrance becoming overpowering.
It should, however, be noted that the plant will need to be moved indoors if temperatures are likely to drop below 10 degrees C (50 degrees F) during the night.
The vining stems of this twining climber are densely covered in oval dark green leaves. Using soft ties to loosely tie the vigorously climbing stems to a trellis will provide support and show off those glorious flowers, which will emerge from the tip of stems as scrolled buds in summer.
On opening, the pendulous trumpet flowers will grow up to 25 cm (10 in) in length and provide a dazzling display in white, yellow or pink. Some of the latest varieties feature double blooms and/ or dual colours.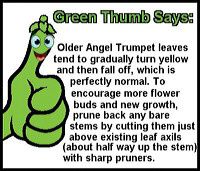 Cutting off spent flowers will encourage more blooms, as will pruning the plant after the flowers have faded. This will also help to keep the size of the plant under control. Essentially, up to half of the plant can be safely removed with each pruning and will ultimately result in increased numbers of flowers.
Unlike many other flowering house plants, the Angel Trumpet Plant grows well in large containers, and subsequently needs repotting to a larger pot (typically one size larger than the previous year) every spring. Using a pot with drainage holes will prevent root rot caused by soggy soil.
In winter, the plant should be allowed to rest. Although it is an evergreen, its growth will slow down during this period and fertilising should stop, while watering should be restricted to stopping the soil from drying out completely. As it is a tropical plant, it is not hardy and will need to be kept at room temperature during this time.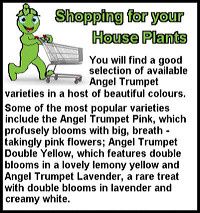 It is essential to look out for spider mites and immediately treat any infestations. Keeping humidity at high levels will also help to deter these pests, as they tend to prefer drier conditions.
A word of warning: All of this plant's parts are highly toxic. It should therefore be kept away from children and pets. It is also necessary to wear gloves whenever handling the plant.