July 22 2012
1
22
/

07
/

July
/

2012
18:58
Plant Summary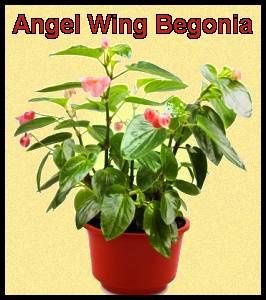 Botanical Name: Begonia x corallina hybrids
Type: Flowering
Origin: South America
Height: Angel Wing Begonias grow up to around 90 cm (3 ft) in height.
Soil: This plant grows particularly well in potting mix designed for African Violets.
Light: Ideally, this house plant should have plenty of indirect, but bright light.
Humidity: Humidity needs to be moderately high for Angel Wing Begonias. If the room is too dry, placing the pot on a tray filled with wet pebbles or using a room humidifier should raise levels sufficiently. In any case, the plant needs to be kept well away from drafts.
Temperatures: The best temperatures for this type of plant range between 18 and 24 degrees C (65 to 5 degrees F). Not at all tolerant to the cold, Begonias are likely to incur damage if temperatures are allowed to drop below 13 degrees C (50 degrees F).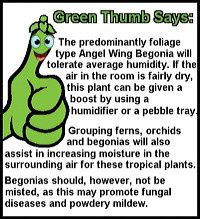 Water: The top 2.5 cm (1 in) of the soil should be allowed to dry out between watering, at which point it needs to be watered thoroughly.
Fertiliser: Use one part water and one part of liquid high potassium fertiliser to feed the Angel Wing Begonia once every two weeks during spring and summer. To prevent fertiliser burns, apply the fertiliser to already moist soil.
Propagation: 8 to 10 cm (3 to 4 in) stem tip cuttings taken in spring or latest in early summer will root easily in moistened perlite.
Description and Care Tips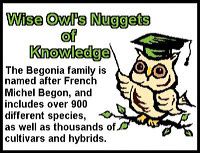 The big, glossy green leaves, elegantly shaped and often spotted with flecks of white, cascade down the cane like stems of the Angel Wing Begonia, ensuring it is perfectly beautiful even when not in bloom. This appearance is further enhanced by the reddish undersides of the leaves.
Blooming times vary between varieties, but the majority of Angel Wing Begonias will bloom in spring, when sprays of delicate little flowers in shades ranging from soft pink into deep, vibrant reds add to the attraction.
One of the easiest to care for indoor begonia, this plant is far less fussy about humidity levels than its relative Rex Begonia. Lots of bright, yet indirect light will ensure plenty of blooms and good leaf colour.
In spring, the plant should be repotted into a new pot a size larger than the one used in the previous year. The fibrous roots of this house plant like to be a little pot-bound, so getting a larger pot than this will simply result in the plant's growth slowing until the pot is filled with roots again.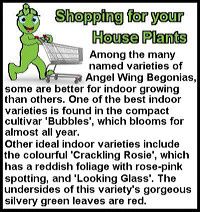 As begonias also like to have a little air circulating their roots, the soil should not be packed down too tightly. Drainage holes in the pot are necessary in order to prevent the soil from becoming soggy, which will cause the leaves to yellow and drop off.
Yellowish halos on the leaves point to leaf spot. Caused by a bacteria thriving in moist, cool environments, this can seriously damage a plant if not dealt with immediately. Affected leaves need to be removed and adequate air circulation for the plant needs to be provided. Under no circumstances should the plant be placed near heat sources, air conditioning vents or areas prone to drafts.