July 22 2012
1
22
/

07
/

July
/

2012
22:17
Plant Summary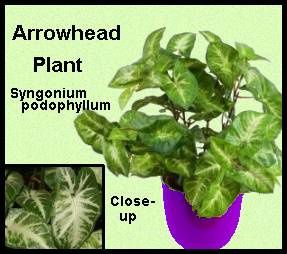 Botanical Name: Syngonium podophyllum
Type: Foliage
Origin: South America
Height: Some of the newer compact varieties will only grow to approximately 60 cm (2 ft) in height, while other varieties will climb to heights of around 1.2 m (4 ft) or more if left to flourish.
Soil: As long as adequate drainage is provided, any good potting mix will keep the Arrowhead Plant growing well.
Light: Arrowhead Plants prefer bright light - away from direct sunlight - but will tolerate low light conditions. To ensure even growth, the pot should be turned regularly.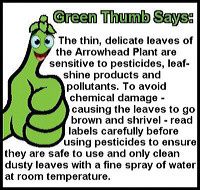 Humidity: The Arrowhead plant is not terribly fussy about humidity levels and accepts average room humidity levels with ease.
Temperatures: Average room temperatures of between 16 and 24 degrees C (60 to 75 degrees F) are acceptable for this type of house plant.
Water: The potting mix should be kept fairly moist during summer, although it is best to let the surface dry a little between watering. In winter, it is fine to let the potting mix dry out about half way down.
Fertiliser: From the beginning of spring through to the end of autumn, the Arrowhead Plant should be fed fortnightly with a diluted (1:1) balanced fertiliser for house plants. In winter, this should be cut down to monthly feeds.
Propagation: Arrowhead Plants can be propagated by taking stem cuttings in early summer.
Description and Care Tips
A relative of the Rhododendron, the Arrowhead Plant belongs to the Araceae family, making it very easy to care for. All this low-maintenance plant really requires to thrive is slightly moist soil and plenty of bright light.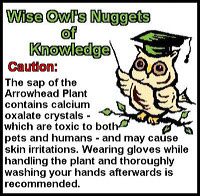 Thanks to the efforts of commercial growers, this plant is now available in varieties that are more resistant to diseases, as well as in appealing compact variations. There are also more choices in leaf colours, some of which feature fairly heavy variegation.
The leaves of young plants start off heart-shaped, turning into arrowheads as the plant matures. Typically dark green, the leaves have cream or silvery white variegation. Arrowhead plants look wonderful in dish gardens or in groups with other foliage plants. Compact varieties mix particularly well with compact heart-leaf Philodendrons and Dieffenbachias, as all three species require fairly similar care.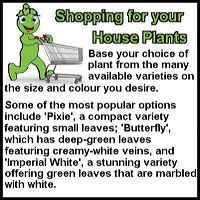 The upright stems of young plants form in clusters and will develop into climbing stems as the plant fully matures. To give aerial roots something to cling on to and support older stems, moss sticks are the perfect solution.
Keeping Arrowhead Plants full and bushy can be achieved by pruning out the climbing older stems. Cutting them back in early summer will provide stem tip cuttings for propagation.