August 9 2012
5
09
/

08
/

August
/

2012
19:16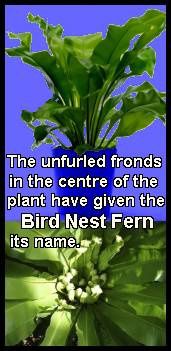 Plant Summary
Botanical Name: Asplenium nidus
Type: Foliage
Origin: Australia, Southeast Asia
Height: Bird Nest Fern, or Bird's Nest Fern, grows up to a height of 60 cm (2 ft).
Soil: A good peat moss based potting mix is perfect for this plant.
Light: This kind of house plant prefers moderate to bright light, but should not be placed into direct sunlight. For even growth, the pot should be turned regularly.
Humidity: Bird Nest Ferns prefer moderate humidity. If levels drop below 50 per cent, a room humidifier or a humidity tray should raise levels adequately.
Temperatures: Average temperatures of around 16 to 24 degrees C (60 to 75 degrees F) will keep Bird Nest Ferns happy.
Water: The soil needs to be kept evenly moist. It is important to water the soil, as watering in the plant's rosette may cause it to rot. Watering should be reduced in winter. Over watering may cause the fronds to turn yellow.
Fertiliser: A liquid balanced fertiliser should be diluted by half and fed to the plant once every two weeks during the spring and summer months.
Propagation: Bird Nest Ferns propagate through spores.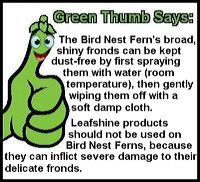 Description and Care Tips
One of the easiest to grow among ferns, the tropical Bird Nest Fern grows fast and will last for years with a little loving care. Getting its name from the appearance of the central, unfurled fronds, this plant grows as an epiphyte (growing on other plants, trees, etc) in the moist, warm tropical rainforests of its native habitat.
This plant is a unique fern and grows in the shape of a deep rosette formed by its spear-shaped, large and shiny fronds, which grow and unfurl from the centre. Sunlight and drafts may scorch these fronds, and it is also advisable to keep the plant where passers-by will not brush against it, as the fronds are very tender and may break if touched carelessly.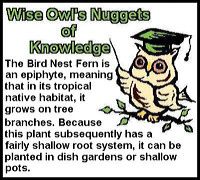 As the plant ages, the outer, older fronds will begin to turn brown. They can be cut off from the base to keep the fern looking tidy. When the roots fill the pot, or every couple of years, the plant should be repotted, preferably in spring. Obviously, a container with adequate drainage holes to prevent soggy soil should be used.
There are few problems troubling this plant, although it is best to keep an eye out for scale insects. If an infestation is suspected, spraying the plant first with soapy, then clean water should get rid of them.