August 9 2012
5
09
/

08
/

August
/

2012
21:10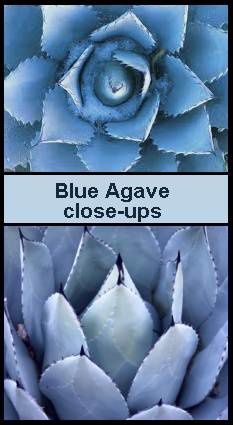 Plant Summary
Botanical Name: Agave parryi
Type: Succulent
Origin: Mexico and Southwestern USA
Height: The Blue Agave plant grows to approximately 30 cm (1 ft) in height.
Soil: Cactus potting mix, or a mixture of one part sand to two parts of all purpose potting mix will provide the drainage this plant needs.
Light: Bright light and full sun will keep this lovely plant looking well.
Humidity: The Blue Agave requires average room humidity levels.
Temperatures: While winter temperatures should be kept at a cool 10 to 16 degrees C (50 to 60 degrees F) for the Blue Agave, temperatures should be a healthy 21 to 32 degrees C (70 to 90 degrees F) from spring through summer and into autumn.
Water: The top half of the soil should be allowed to dry out between thorough waterings. During the autumn and winter months, watering should be reduced enough to just keep the soil from drying out completely.
Fertiliser: A balanced, diluted to half its strength liquid fertiliser should be administered once a month throughout spring and summer.
Propagation: Offsets growing from the base of the plant can be removed and potted separately once they reach a size of 5 to 10 cm (2 to 4 in).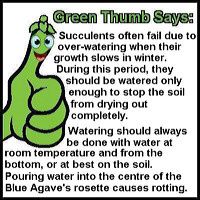 Description and Care Tips
As long as it is possible to supply plenty of sunlight, Blue Agave plants make excellent house plants. Thick, spined leaves - which should be handled with care as they are sharp - grow in rosettes on this round succulent.
The plant can be moved outdoors during the summer, although it needs to be sheltered from rain. It can stand very high temperatures and loves as much sunlight as possible. As it does not tolerate low temperatures easily, it needs to be brought back indoors before temperatures drop below 10 degrees C (50 degrees F).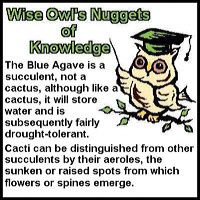 Moving the plant in and out of the sun should, by the way, be done gradually to accustom the plant to higher/ lower light levels slowly. Naturally, it is perfectly acceptable to keep the plant indoors all the time, as long as it is placed somewhere where it gets lots of sunlight, such as, for instance, in front of a south or west facing window.
Because the Blue Agave is very slow growing, it hardly ever needs to be repotted. Most plants will only need to be repotted to freshen the soil once every five years or so. To prevent toppling, a wide, relatively heavy pot should be used.