August 11 2012
7
11
/

08
/

August
/

2012
18:59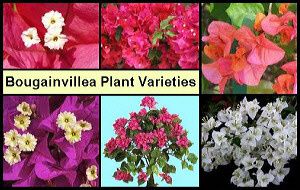 Plant Summary
Botanical Name: Bougainvillea glabra
Type: Flowering
Origin: Brazil
Height: If left to grow without pruning, Bougainvillea Plants can grow to staggering heights of up to 4.5 m (15 ft). They are, however, suitable for growing as Bonsai trees.
Soil: Any quality potting mix will be sufficient for this plant.
Light: This plant needs full sun and should be given a minimum of four hours of direct sunlight every day.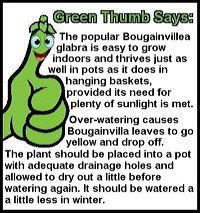 Humidity: Bougainvillea Plants are quite happy with average levels of humidity.
Temperatures: The plant does not appreciate cold at all, so it must be kept indoors if temperatures are likely to drop below 16 degrees C (60 degrees F) at night. Generally speaking, temperatures between 16 and 27 degrees C (60 to 80 degrees F) are acceptable.
Water: After watering the plant thoroughly, the drainage tray, saucer under the pot should be emptied to prevent the soil from becoming soggy. The top 5 cm (2 in) of soil should be allowed to dry out before watering again.
Fertiliser: Feed a 1:1 water/ liquid high phosphorous fertiliser solution to the plant once a fortnight from spring into autumn.
Propagation: Stem tip cuttings of approximately 10 cm (4 in) can be taken in spring and need to be rooted in moist soil. A heat mat will be required for optimal propagation results. In theory, the cuttings should root within around two months.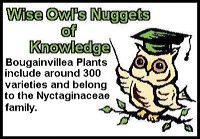 Description and Care Tips
While Bougainvillea Plants can typically be found climbing arbours and scrambling over stone walls, or spilling luxuriously out of terra cotta containers in places like Greece, Mexico or Southern California, they are just as at home in colder climates if placed into a sunny window, a sun room or a green house.
Moving this tropical plant out onto a patio or porch during the hot summer months will, however, really get it to thrive and produce an abundance of large clusters of orange, pink, red or purple, papery bracts surrounding creamy white, small flowers. Beautiful as they are, they have to be handled with care, as the long arching branches of the Bougainvillea are covered in thorns likely to irritate skin.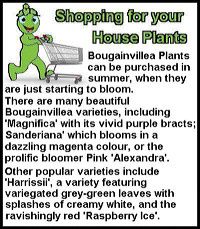 After the flowers fade in autumn, the plant can be pruned back to prevent it from becoming too leggy. Alternatively, it can be trained over a trellis or around a hoop. If required, it can be tied into place using a little florist's wire, but as a rule, this vigorously climbing plant rarely needs any help to twine around any kind of support it can get hold of, so to speak.
When new growth appears in spring, it is time to consider repotting, although the plant produces the best blooms when slightly pot bound, so a new pot should not be more than one size larger than the one from the previous year.