August 25 2012
7
25
/

08
/

August
/

2012
09:56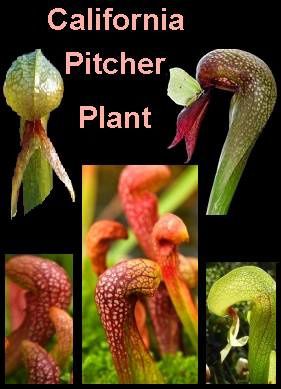 Plant Summary
Botanical Name: Darlingtonia californica
Type: Foliage
Origin: Northern California, Oregon
Height: California Pitcher Plants grow to a height of around 30 cm (12 in).
Soil: Nutrient rich soil will actually harm the roots of this house plant, so it is vital to get a medium poor in nutrients. If available, sphagnum moss is good, but a mixture of one part of sharp sand or perlite and one part of peat moss will suffice.
Light: This plant likes bright light, but should be kept out of direct sunlight. Strangely enough, it appears to thrive under fluorescent lighting.
Humidity: As the California Pitcher Plant likes moderate to high levels of humidity, it should be placed onto a wet pebble tray or misted daily.
Temperatures: During its necessary winter dormancy period, this plant needs to be kept at temperatures ranging from 4 to 7 degrees C (40 to 45 degrees F). The remainder of the year, it is at its happiest in temperatures between 16 and 24 degrees C (60 to 75 degrees F).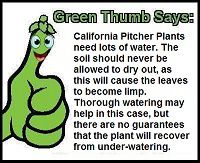 Water: The soil must be kept evenly moist throughout the year. The plant is sensitive to the chemicals contained in tap water, so it should be watered using rain or distilled water.
Fertiliser: When there are no bugs and things to eat, the California Pitcher Plant makes its own nutrients using photosynthesis. It therefore does not require fertilising.
Propagation: It is possible to grow this type of plant from seed, but germination is decidedly slow. Propagation through division when new growth appears in spring is therefore a more viable option.
Description and Care Tips
The carnivorous California Pitcher Plant is native to Northern California and Oregon bogs. As these bogs have nutrient poor soil, the plant has developed two methods of finding the nutrients it needs. The primary method of feeding is trapping and digesting insects, with the secondary method, employed when there are no bugs to feed on, is photosynthesis.
The plants long, tubular leaves are green with prominent veins in a purple-red colour. The top of the leaves arches, with the opening facing downward, almost like a hood. Forked leaves reminiscent of serpent's tongues hang down from the hooded tubes. Because this gives the upright tubes an appearance similar to a cobra that is about to strike, this plant is also known as the Cobra Lily.
Insects are lured into the hooded opening with the help of intoxicating nectar.Tiny, downward pointing hairs inside the tube then make it near enough impossible for the trapped insects to escape.
As long as nutrient poor potting mix, kept continually moist, and high enough humidity levels are provided, this plant should thrive with ease. One of only a few plants that like cold water, the California Pitcher Plant, which is used to receiving its water from cold mountain springs and loves having cold roots, can be watered by simply placing ice cubes onto the soil.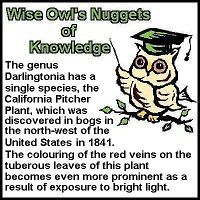 In winter, the plant will go dormant for a period of three to four month. As it dies down, dead pitchers can be cut off using a sharp knife. Young pitchers should be left in place. It should then be kept moist and cool. As long as it will receive some indirect light, it can be moved into a basement or garage during this period, although frost should be avoided.
When the first new leaves appear in spring, the plant can be divided and repotted. It is essential to do this before the really vigorous new growth sets in, so keeping an eye on the plant as winter comes to an end will be necessary.