August 25 2012
7
25
/

08
/

August
/

2012
13:38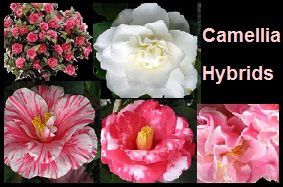 Plant Summary
Botanical Name: Camellia japonica
Type: Flowering
Origin: China, Korea and Japan
Height: Camellias kept indoors can grow up to a height of approximately 3 m (10 ft). If they are to be kept fairly small, regular pruning will be required. This house plant can also be grown into a Bonsai tree.
Soil: Camellias prefer their soil to be slightly acidic. Equal parts of peat moss and lime free potting mix will provide the perfect potting medium.
Light: This type of plant likes bright, but indirect light, although a little direct, cool morning sun is acceptable.
Humidity: The Camellia plant needs high levels of humidity. Foliage should be misted regularly, and the pot should be placed onto a tray of wet pebbles as well. If this does not adequately raise levels, a room humidifier may need to be used.
Temperatures: Cool temperatures of around 7 to 16 degrees C (45 to 60 degrees F) are perfect for this plant.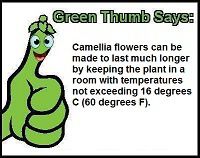 Water: Soil needs to be kept evenly moist, in particular during the budding and flowering periods. If the soil is too dry - or too wet - the buds will drop off. When the plant has finished flowering, the top of the soil should be allowed to dry out between watering sessions.
Fertiliser: Dilute a liquid high potassium fertiliser by half and feed it to the Camellia once every two weeks from the onset of the first few buds until the plant finishes flowering.
Propagation: Camellias can be propagated by taking stem cuttings during the winter months and rooting them in moistened potting mix.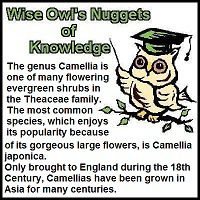 Description and Care Tips
To successfully grow Camellias, they need to be kept in a cool room with bright, but indirect, light and high humidity, and the soil needs to be kept moist at all times.
The woody branches of Japanese varieties are covered glossy, thick and dark green leaves.They will usually bloom during the winter months or in early spring. The showy, large flowers may be single, double or semi-double, and can be between 7.5 and 15 cm (3 to 6 in) in size.
As a rule, the blooms are white, pink or red, often with contrasting stripes or speckles. Keeping the plant outside during the warmer months should help to encourage increased blooming.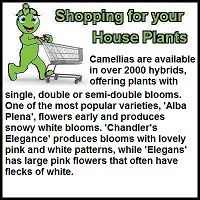 To keep the size of a Camellia under control, it should be pruned back hard once flowering has finished in spring. Stems need to be cut at a 45 degree angle, immediately above nodes (the place where branches and leaves are attached to them) using a sharp pruner.
This period is also the right time to repot this plant. Typically, a new pot - just one size larger than the previous year's pot - is required once every two to three years. Larger plants are often content with having just the top 5 to 7.5 cm (2 to 3 in) refreshed.
Common problems include scale insects and aphids (especially if the plant is kept outside),, as well as black spot. Black spot is a fungus that will nee to be treated with a suitable fungicide. Plenty of air circulation will help to prevent this problem.