September 12 2012
4
12
/

09
/

September
/

2012
11:14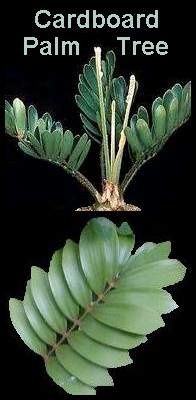 Plant Summary
Botanical Name: Zamia furfuracea
Type: Foliage, semi-succulent
Origin: The Cardboard Palm Tree originates from Eastern Mexico.
Height: This slow growing plant can reach heights of around 1.8 m (6 ft) when kept indoors.
Soil: To allow for adequate drainage, equal parts of sand a a high quality potting mix should be combined for this house plant.
Light: Cardboard Palm Trees like bright light and can be kept in full sunlight.
Humidity: Low to average levels of humidity are perfect for this plant.
Temperatures: While this house plant prefers temperatures of 16 to 24 degrees C (60 to 75 degrees F) throughout the year, it is hardy enough to tolerate lows down to -1 degree C (25 degrees F).
Water: After thoroughly watering the Cardboard Palm, the top 5 cm (2 in) of potting mix should be allowed to dry out before the next watering. Good drainage is vital to prevent soggy soil, so a pot with drainage holes should be used. Growth will slow during winter, meaning watering should be reduced.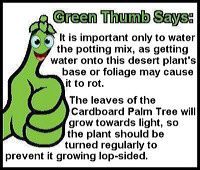 Fertiliser: Feeding the plant requires administration of a time release fertiliser just twice per year. The first dose is given in spring, the second will become necessary in summer.
Propagation: While mature plants will produce seeds, they will not be fertile unless the plant was cross-pollinated. It is therefore necessary to purchase high quality seeds for propagation. These seeds germinate slowly, and patience is required, as it will take years for the seedlings to grow into tall plants. As the seeds are poisonous and could kill a pet or small child, they need to be kept in a safe place.
Description and Care Tips
Cardboard Palm Trees are, in fact, not palms, but Cycads. Native to Mexico, they are easier to keep indoors than real palms due to their tolerance of low humidity levels. Placed into a sunny spot and turned evenly to ensure even growth, this plant has few requirements to thrive.
Maintenance is exceptionally low for the Cardboard Palm Tree. A semi-succulent, it will hold water within its thick stem, and will survive if watering is occasionally forgotten. The soil should not be allowed to dry out too much, however, as the plant may drop its leaves as a result.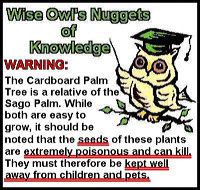 The leaves are thick and fuzzy, with a dry, papery feel to them. They grow in rosettes from the base right up to the top of the stem, creating a leafy, full looking plant that will provide a dramatic accent to a home.
Cone-like structures that are either male or female - each individual plant will only produce one or the other - will form, but there is no point in collecting the seeds, as they will not be fertile unless cross-pollination has been possible.
Root-bound plants need to be repotted in spring. As the plant can become top-heavy, it is important to use a heavy container if toppling is to be prevented. For older plants, it is often sufficient to replace (top dress) the top 5 to 7.5 cm (2 to 3 in) of soil.