September 12 2012
4
12
/

09
/

September
/

2012
11:54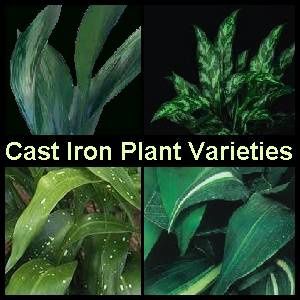 Plant Summary
Botanical Name: Aspidistra elatior
Type: Foliage
Origin: This house plant originates from China.
Height: Cast Iron Plants can grow to heights of around 90 cm (3 ft).
Soil: Any good general purpose potting mix will be suitable for this plant.
Light: Cast Iron Plants prefer low to moderate light conditions. They should not be exposed to direct sunlight, as this may cause unsightly brown scorch marks on the leaves.
Humidity: Although the Cast Iron Plant will tolerate comparatively dry air, it prefers moderate levels of humidity. In any case, it must be kept out of drafts.
Temperatures: Highly adaptable to temperature changes, this house plant will tolerate temperatures between 10 and 29 degrees C (50 to 85 degrees F).
Water: During the spring and summer months, the plant needs to be watered thoroughly on a regular basis, although the soil should be allowed to dry out between watering sessions. Watering is reduced during autumn and winter. Over-watering will often result in leaves turning yellow.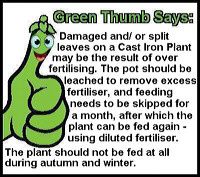 Fertiliser: A diluted (1:1), balanced liquid fertiliser should be fed to the plant once every four weeks during spring and summer.
Propagation: This slow-growing plant must be divided in spring, when the pot becomes over-crowded. As a rule, this will only become necessary every five years or so. It is better to remove new shoots - with their roots attached - rather than repotting an older plant.
Description and Care Tips
The tough Cast Iron Plant will survive in conditions likely to kill any other plants, from low light and infrequent watering to extreme summer heat. It really does not like soggy soil, and practically thrives on being neglected.
This plant does, in fact, have somewhat of a Greta Garbo ('I vant to be alone') attitude - it hates to be disturbed. Respecting this attitude and only repotting it when it is absolutely necessary will result in the plant getting on just fine for years to come.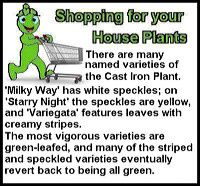 The 15 cm (6 in) stems of this beautiful, evergreen plant grow in a clump, bearing dark-green, glossy leaves that will grow up to 10 cm (4 in) in width and 60 cm (24 in) in length. Some varieties may feature speckles or stripes on their leaves. While the plant does not mind dust, owners may prefer to keep the leaves shiny by wiping them with a damp, soft cloth from time to time.
In spring, some rather unattractive small flowers in a purplish-brown colour may appear at the base of the Cast Iron Plant. They are hardly noticeable, and it is best not to expect them, as this plant does not flower often.