September 12 2012
4
12
/

09
/

September
/

2012
12:44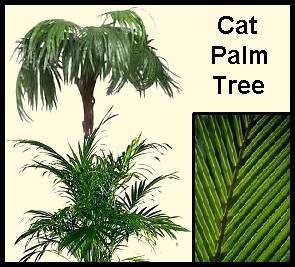 Plant Summary
Botanical Name: Chamaedorea cataractarum
Type: Foliage
Origin: Cat Palm Trees are native to Southern Mexico.
Height: Kept indoors, this palm will grow up to 1.8 m (6 ft) high.
Soil: Good drainage is required, making a peaty potting mix ideal. Mixing three parts of African Violet mix with one part of sand works well for this house plant.
Light: Cat Palm Trees prefer bright light.
Humidity: The Cat Palm prefers moderate humidity levels and loves to get the occasional misting. If humidity levels drop below a relative humidity of 50 per cent, a room humidifier or humidity tray may need to be used.
Temperatures: Year-round temperatures of between 16 and 24 degrees C (60 to 75 degrees F) will keep this house plant thriving.
Water: The soil must be kept moist throughout the year. Adequate drainage to prevent the soil from becoming soggy is vital, as palms do not tolerate getting their feet wet.
Fertiliser: A time release palm fertiliser should be provided just once in spring, then again in summer. Fertiliser spikes formulated especially for palms are best, as they will contain the micro nutrients required by palms in order to retain their green, lush appearance.
Propagation: It is possible to grow Cat Palm Trees from seeds, but the wait will be long - seeds germinate slowly and seedlings will take years to grow into palm trees. Dividing the plant's clumps is possible, but not advisable, as the roots are fragile and easily damaged.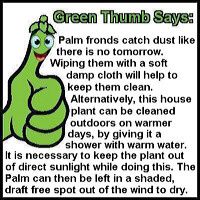 Description and Care Tips
The stemless clumps of Cat Palm Trees feature pinnate leaves that carry leaflets of up to 2.5 cm (1 in) wide, 30 cm (12 in) long leaflets. Being real dust-catchers, these fronds can be kept clean by using a soft damp cloth to wipe them.
As the plant loves bright light, keeping it in a sunny window or a sun room is ideal. Once a week, the plant should be given a one quarter turn to ensure even exposure to light. A plant caddy will make moving a large plant easier.
In spite of common beliefs, palms are not desert plants and do require regular watering to prevent browning of the fronds. It should, however, be noted that the soil should only be kept moist, not soggy.
The plant requires lots of moisture, and dry air, dry soil or fluoride in tap water may cause the leaf tips to go brown. Dry air can be remedied by the use of a humidifier, and using rain or distilled water will remove the risk of fluoride causing problems.
Chemicals in fertilisers and tap water are also likely to cause a build-up of soluble salts in the potting mix. This may damage the roots and leaves of this salt-sensitive plant. To avoid this type of damage, the excess salt can be removed from the soil by placing the pot into a sink - or taking it outside (weather permitting) - and slowly pouring tepid water over the soil.
Once the water has drained out, the process is repeated. Doing this takes just a few minutes, and, if done two or three times a year, will help to keep the Cat Palm healthy.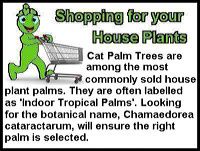 Repotting is typically only required once every three years. In order to limit the plant's size, it is best to keep the roots a little crowded. The new pot should therefore only be one size larger than the old one. When replanting the Cat Palm, it should not be planted to deeply, but roughly at the depth it was in its old container.
The root ball must be kept intact - at least as much as humanly possible - as the roots are extremely brittle. Trying to spread out the roots will irretrievably damage the Cat Palm.