September 12 2012
4
12
/

09
/

September
/

2012
19:03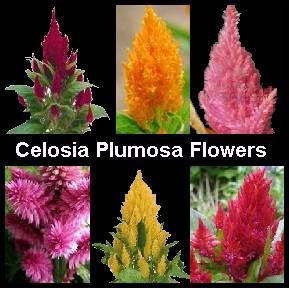 Plant Summary
Botanical Name: Celosia argentea var. plumosa
Type: Flowering
Origin: Most Celosia plumosa varieties are hybrids parented by plants originating from Asia.
Height: Celosias grow to heights of between 15 and 60 cm (6 to 24 in).
Soil: Ideally, Celosia plumosa should be planted in a potting mix based primarily on peat moss.
Light: This house plant loves bright light, and can be placed into full sun light without any problems arising.
Humidity: Average levels of humidity will keep this plant sufficiently happy.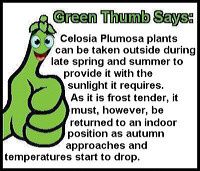 Temperatures: Average temperatures of around 16 to 24 degrees C (60 to 75 degrees F) are perfect for the Celosia, which will easily withstand summer heat if taken outdoors. It will not tolerate cold, however, and most subsequently be brought indoors when outside temperatures start dropping below 16 degrees C (60 degrees F).
Water: The potting mix needs to be kept moist, but not soggy, at all times.
Fertiliser: Balanced liquid fertilisers should be diluted to half their strength and fed to the plant every four weeks.
Propagation: This type is easy to grow from seeds sown in spring.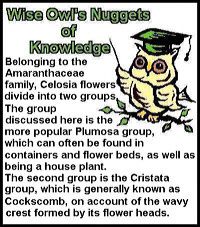 Description and Care Tips
The compact Celosia plumosa is an annual with large bright blooms lasting from spring through into autumn. It thrives in sunny, hot conditions, and requires thorough watering to ensure the soil is kept moist. Adequate drainage must be provided through pots with drainage holes, as soggy soil will cause the roots of this plant to rot.
Easy to grow even from seeds, this low maintenance plant is available in a variety of colours, including yellow, orange, pink, purple and red. Grouped together or alone, these plants really are marvellous to look at, and will provide a splash of colour for months on end.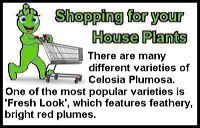 It is often possible to get packets of mixed seeds, providing a spectacular display of eye-catching, vibrant plumes in a multitude of colours. Deeply veined, soft leaves cover most of the fleshy stems holding the plumes above the foliage.
It may have taken some time, but this gorgeous plant is finally getting the recognition it deserves, and is rising rapidly in popularity among both growers and house plant owners.