September 20 2012
5
20
/

09
/

September
/

2012
12:22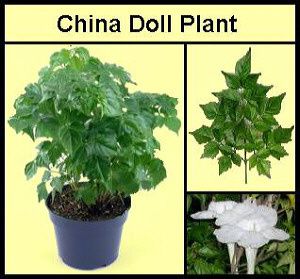 Plant Summary
Botanical Name: Radermachera sinica
Type: Foliage
Origin: The China Doll Plant originates from China and Taiwan.
Height: Kept indoors, this lovely house plant will grow up to a height of around 1.2 m (4 ft).
Soil: China Doll Plants will thrive in any quality general use potting mix.
Light: This house plant likes bright light, but should be kept out of direct sunlight.
Humidity: A plant of few requirements, the China Doll will be happy in rooms with average humidity levels.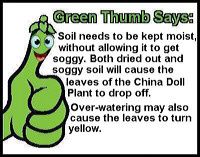 Temperatures: Normal room temperatures averaging around 16 to 24 degrees (60 to 75 degrees F) are perfect for this plant.
Water: The potting mix should be kept evenly moist throughout the year.
Fertiliser: A liquid balanced (10-10-10) fertiliser should be diluted to half its strength and fed to the plant once every two weeks.
Propagation: China Dolls can be propagated through stem cuttings of approximately 10 cm (4 in) in length during spring/ early summer.
Description and Care Tips
The small, evergreen China Doll Plant's long, bipinnate leaves feature deeply veined, glossy leaflets of around 5 cm (2 in) in length. Compact young plants have woody, branching stems. If not pruned back regularly, this fast growing house plant tends to become leggy fairly quickly.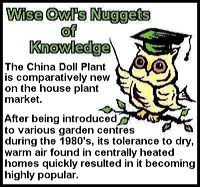 To keep the plant attractive, as much as needed should be cut off during spring or early summer. It is important to always make cuts above leaf nodes, which are essentially the points at which leaves are attached to the stem. Using a good set of sharp, clean pruners will prevent tearing of the stem. Pinching off growing tips on a regular basis will also encourage the China Doll to branch out, rather than growing tall.
While 'wild' plants in the subtropical regions of Southeast Asia, their native habitat, will produce white to yellow, fragrant bell-shaped flowers once mature, indoor plants rarely offer to bloom. Keeping this plant healthy means provision of plenty of indirect, bright light and evenly moist soil at all times.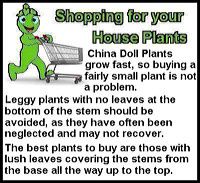 Over-watering should, however, be avoided, as soggy soil will cause the leaves of this plant to turn yellow. China Dolls prefer to be almost pot-bound, so repotting should only be done when the roots have completely filled the container.
The best time to repot is early on in spring, and it is advisable not to make the new pot more than one size larger than the old pot. Choosing a new pot that is too large will result in the plant wasting its energy filling the container with roots, rather than actively growing and producing leaves.