September 20 2012
5
20
/

09
/

September
/

2012
13:04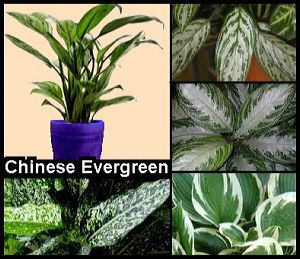 Plant Summary
Botanical Name: Aglaonema hybrids
Type: Foliage
Origin: Chinese Evergreens are hybrids derived from parent plants originating from Southeast Asia.
Height: As a rule, the Chinese Evergreen will not exceed heights of 60 to 90 cm (2 to 3 ft).
Soil: Any good, balanced potting mix will suffice for this useful house plant.
Light: Unlike many other house plants, Chinese Evergreens prefer low light conditions. Too much light will, in fact, cause the leaves of this plant to fade.
Humidity: Average levels of humidity are ideal, although this plant will tolerate low levels of humidity fairly well. The plant should not be misted, as this will cause unsightly spots on the leaves.
Temperatures: Chinese Evergreen plants are happiest in rooms with temperatures ranging between 18 and 24 degrees C (65 to 75 degrees F).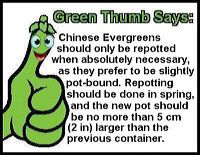 Water: The potting mix needs to be kept evenly moist the whole year round.
Fertiliser: A balanced, liquid fertiliser should be diluted by half and fed to the plant once a month from spring through to the end of summer.
Propagation: Chinese Evergreens may be propagated by root division or stem cuttings, which can be rooted in moist potting soil or water.
Description and Care Tips
Belonging to the Araceae, or Aroid, family, the Chinese Evergreen is an adaptable house plant that will tolerate dry air and low light conditions better than most other plants. It does not, however, appreciate being exposed to cold air.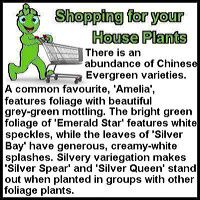 The dark green, pointed leaves of this plant are fairly large, growing up to 15 to 25 cm (6 to 10 in) in length and 7.5 cm (3 in) in width. They are typically heavily marbled with cream, white or white and silver. As the plant ages, some of the lower leaves may drop off, resulting in the Chinese Evergreen looking a little spindly. Some of the newer varieties, like 'Silver Queen', for example, tend to grow in somewhat thicker clumps, leaving even mature plants looking bushy and compact.
During the summer months, some small flowers may appear. These flowers will be followed by red berries, which are poisonous, as is the sap of this plant. It is therefore vital to keep the berries/ sap well away from children and pets.
Chinese Evergreens have no tolerance at all for the cold, and temperatures dropping below 13 degrees C (55 degrees F) will cause them to suffer. They subsequently need to be kept in a warm place well away from cold drafts, which will cause the leaves to develop yellow-grey patches.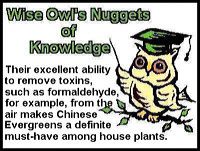 This is one plant that should not be pruned - all new growth comes from the crown, and pruning will kill it off. If an older plant begins to look a little leggy, the bare stems can be hidden by planting another low-light plant, such as, for instance, pothos, in the same container.
This lovely plant is not only nice to look at, it will also do wonders for air quality in the room it occupies. It has an astounding ability to remove a range of toxins, including formaldehyde, from the air, making it a plant every home should have.