September 21 2012
6
21
/

09
/

September
/

2012
10:51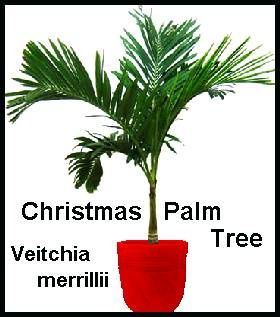 Plant Summary
Botanical Name: Veitchia merrillii
Type: Foliage
Origin: Christmas Palm Trees originate from the Philippine Islands.
Height: This magnificent house plant can grow up to heights of 1.8 m (6 ft) even if kept indoors.
Soil: A well draining peat-moss potting mix should be used for this plant. A mixture of African Violet mix (three parts) and sand (one part) is perfect.
Light: Christmas Palm Trees like bright light and can handle a little direct sunlight.
Humidity: Humidity levels should be kept moderate (above 50 per cent) for this palm, using a room humidifier or a humidity tray to raise levels if necessary.
Temperatures: Room temperatures should be kept between 16 and 24 degrees C (60 to 75 degrees F) to keep this plant happy.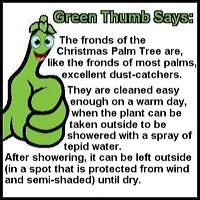 Water: Christmas Palm Trees need to be watered regularly, but without allowing the soil to get soggy, as this will cause the roots to rot. For this reason, a pot with drainage holes should always be used.
Fertiliser: Slow-growing palms like this species do not require regular feeds with liquid fertilisers like other house plants. A slow-release food spike added to the soil once in spring , then again later on in summer will provide all the micro nutrients the palm needs to remain healthy and lush.
Propagation: Christmas Palm Trees are propagated from seeds. Patience is required, as the seeds can take several months before they finally germinate. Seeds should be sown and lightly covered with soil in spring or early summer. They should then be kept moist and warm (at temperatures of around 24 to 27 degrees C, or 75 to 80 degrees F).
Description and Care Tips
The adorable tropical Christmas Palm Tree makes a magnificent house plant. Reminiscent of the stately Royal Palms lining the boulevards of California and southern Florida, this plant's crown of pinnate arched leaves is supported by a single trunk. In autumn, the clusters of flowers emerging from the base of the crown are replaced by green fruits, around 2.5 cm (1 in) in size. By the time Christmas arrives, these fruits will have ripened to a bright red colour, giving them an appearance similar to red Christmas lights - the reason for this gorgeous palm's common name.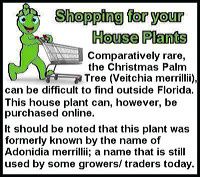 Christmas Palm Trees are surprisingly tolerant of being grown in pots, and as long as they are given lots of sunshine throughout the year, they will thrive indoors. They can be moved outside during the warm summer months, but must be brought back inside when temperatures drop to around 4.5 degrees C (40 degrees F), as they do not take kindly to being cold.
Repotting - which is only necessary when the plant becomes severely root-bound - should be done in spring. Containers need to allow for root-growth and subsequently need to be fairly deep. They should also be quite heavy, as the Christmas Palm Tree - though slow-growing - will grow tall and top-heavy sooner or later.