September 21 2012
6
21
/

09
/

September
/

2012
16:07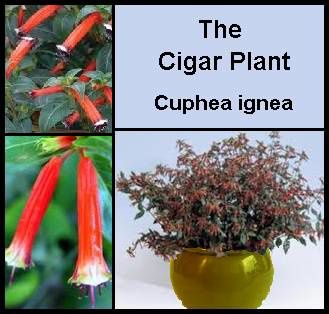 Plant Summary
Botanical Name: Cuphea ignea
Type: Flowering
Origin: The Cigar Plant originates from Mexico.
Height: This house plant will grow to an approximate height of 60 cm (2 ft) within a year.
Soil: Cigar Plants are quite happy when planted in any quality potting mix.
Light: A sunny spot is ideal for this plant, as it likes bright light and is happy with exposure to direct sunlight.
Humidity: Average levels of humidity will keep this plant satisfied.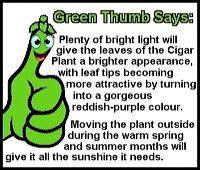 Temperatures: Temperatures ranging between 16 and 24 degrees C (60 to 75 degrees F) are perfect. Cigar Plants can take the summer heat if moved outdoors, but do not tolerate being cold at all.
Water: Thorough watering is required from spring into autumn. The soil should be allowed to dry slightly, but not completely, between waterings. In winter, the soil should be kept a little drier.
Fertiliser: A diluted (by half) liquid balanced fertiliser needs to be fed once a fortnight from spring to autumn.
Propagation: Seeds should be sown early in spring, while propagation from stem tip cuttings is done in summer. The cuttings - which should be approximately 7.5 cm (3 in) long - can be rooted in moist perlite. Once roots become apparent, the little plantlets should be transferred into their own pots with new potting mix.
Description and Care Tips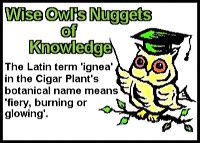 Cigar Plants owe their name to their flowers, which are orange-red, tubular and rimmed with purple and white, giving them the appearance of burning cigars complete with ash on their tips. These flowers, which are approximately 2.5 cm (1 in) long, grow singly from the leaves' axils. They will appear in lush abundance from the beginning of summer right into autumn.
The Cigar Plant is a fast growing evergreen sub-shrub that will reach its full height within little more than a year. The woody stems of this plant are densely covered in 5 cm (2 in) long, narrow leaves. To keep this plant bushy and compact, it can be pruned back quite a lot. Using clean, sharp pruners (to prevent tearing of the stems), the stems can be cut back by half during late winter in order to encourage fresh growth and increased amounts of flowers.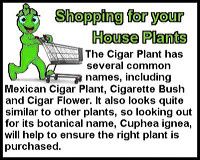 When the shrubby Cigar Plant gets crowded in its pot, it needs to be repotted. This should always be done in spring, well before flowering begins. A pot with drainage holes should be used to prevent the soil getting soggy, as this will cause the base of the plant to rot.