September 21 2012
6
21
/

09
/

September
/

2012
16:55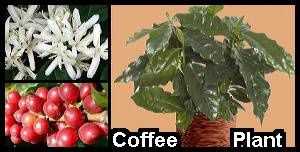 Plant Summary
Botanical Name: Coffea arabica
Type: Foliage
Origin: The Coffee Plant originates from tropical Africa and Southern Asia.
Height: Kept indoors, Coffee Plants can grow to heights of approximately 1.8 m (6 ft).
Soil: This plant needs a potting mixed based on peat moss.
Light: Coffea arabica likes bright light, but should be kept out of direct sunlight.
Humidity: Moist air is required, for this type of house plant, and using a room humidifier will provide the best possible results.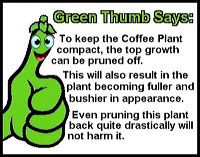 Temperatures: The Coffee Plant likes temperatures of around 16 to 24 degrees C (60 to 75 degrees F). It will not tolerate freezing temperatures at all.
Water: Providing good drainage, the soil needs to be kept thoroughly moist during the spring and summer months, reducing watering to keeping the soil barely moist in autumn and winter.
Fertiliser: During spring and summer, a diluted (1:1) liquid fertiliser (balanced formula) should be fed every two weeks.
Propagation: As cuttings are difficult to use for propagation, it is best to grow this plant from fresh seeds sown in spring.
Description and Care Tips
In addition to being the source of one of the most popular beverages in the world, the Coffee Plant also makes an easy to grow, beautiful house plant. One of 90 species in the genus Coffea, this evergreen shrub is a member of the family Rubiaceae.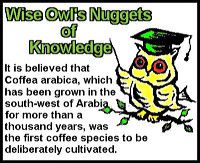 The dark green glossy leaves of the Coffee Plant feature ruffled edges and grow on willowy stems. In its native habitat, this plant can reach heights of 4.5 m (15 ft) or more, but keeping it indoors and cutting it back regularly will help to control its size. Pruning should be done in spring, using clean, sharp pruners.
Stems should be cut about 0.6 cm (1/4 in) above the the spot where the leaf attaches to the stem (the leaf axil), at an angle of 45 degrees. It is quite harmless to cut this plant back quite a bit - even harsh pruning will not affect it badly, but will encourage sufficient new growth to keep it full, bushy and shaped attractively.
Spring is also the time to repot the Coffee Plant. The new pot should be one size bigger than the previous one, and it is essential to use a pot with drainage holes, as this will help to prevent over-watering.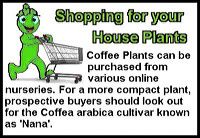 In time (typically around three to four years or so), Coffea arabica will produce white, star-shaped and sweetly scented flowers. These are then followed by fruits. Initially green, the fruits will slowly change their colour to red, then almost black as they ripen. Once the ripening process - which will take several months - is completed, each fruit will bear two seeds (beans). These beans can, after being properly roasted, be ground and used for coffee.
It should, however, be mentioned that this long lived, vigorously growing and most attractive house plant may take many years before producing enough beans to make a cup of coffee - so patience and a few more jars of the favourite instant variety will be required.