September 21 2012
6
21
/

09
/

September
/

2012
18:44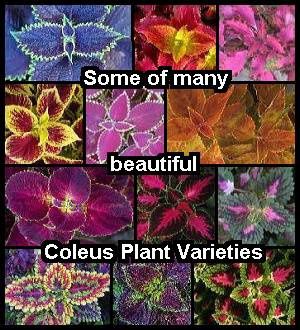 Plant Summary
Botanical Name: Coleus blumei (or Solenostemon scutellarioides)
Type: Foliage
Origin: The Coleus Plant, or Painted Nettle, originates from Southeast Asia.
Height: Painted Nettles can reach heights of around 60 cm (2 ft).
Soil: Coleus Plants will grow well in any balanced potting mix.
Light: Painted Nettles like bright light. Although a little sunlight is acceptable, intense summer sun should be avoided, as it may scorch the leaves. If insufficient light is provided, leaf colours may dull and, in extreme cases, leaves may drop off.
Humidity: Setting the pot of the Coleus Plant onto a tray of wet pebbles will provide the moderate humidity this plant requires.
Temperatures: This house plant is happiest in temperatures ranging from 16 to 24 degrees C (60 to 75 degrees F).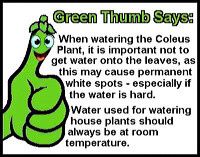 Water: The soil must be kept evenly moist at all times, as thirsty plants tend to result in wilting leaves.
Fertiliser: Painted Nettles should be fed with a balanced, diluted (one part water to one part fertiliser) liquid fertiliser once a fortnight from early spring to the end of summer.
Propagation: Stem tip cuttings (7cm/ 3 in) taken during spring or early summer will root easily in moist soil or water. Coleus Plants can also be grown easily from seeds sown in spring.
Description and Care Tips
Often grown as an annual in gardens, the frost-tender Coleus Plant, or Painted Nettle, is easy to grow inside, as long as sufficiently bright light can be provided.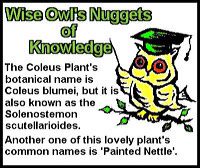 The distinctive shape of the leaves - which may have ruffled or scalloped edges - combines with intricate patterns in often dramatic colour combinations. Avaialble in an abubdance of varieties, Coleus Plants boast foliage colours ranging from creams, yellows and oranges through reds, maroons and browns to varying shades of green and even blue.
These rich colours, the beautiful designs featuring contrasting colours and the variety of edgings make the Coleus Plant a definite rival to even the showiest of foliage and even many flowering plants.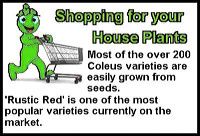 Caring for the Coleus blumei is comparatively easy. Plenty of bright light and continually moist soil will keep the plant looking healthy. The plant should be watered regularly and thoroughly. A pot with drainage holes will prevent over-watering. If the Painted Nettle's soil is allowed to get too dry, it is likely that the leaves will wilt and drop off.
Pinching out growing tips frequently will prevent the plant from becoming leggy and keep its appearance full and bushy. The insignificant, small flower spikes likely to appear should also be pinched off as soon as they appear, as they will only take away from the gorgeous foliage, rather than adding to the look of this magnificent house plant.