September 27 2012
5
27
/

09
/

September
/

2012
19:54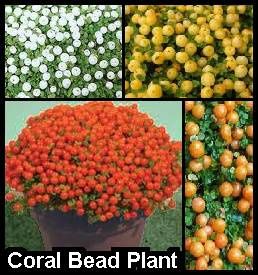 Plant Summary
Botanical Name: Nertera granadensis
Type: Foliage/ Flowering
Origin: The Coral Bead Plant is native to South America, Southeast Asia, Eastern Australia and New Zealand.
Height: This compact little house plant usually grows to a height of around 8 cm (3 in).
Soil: Coral Bead Plants need good aeration, making a mix of one part of perlite or sand and two parts of a good potting mix (peat-moss based) necessary.
Light: Bright light is required, but direct sun should be avoided.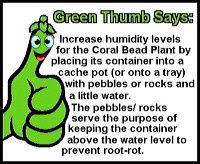 Humidity: A need for moderate to high levels of humidity make it essential to mist the plant daily from when the first flowers appear until the beads (berries) are formed.
Temperatures: This little plant prefers to keep a little cooler, with ideal temperatures ranging between 13 and 18 degrees C (55 to 65 degrees F).
Water: The sand/ perlite and peat-moss potting soil mixture should be kept moist, but not soggy.
Fertiliser: While the plant is bearing berries, it needs to be fed once a month. A liquid balanced fertiliser should be diluted to half its strength for this purpose.
Propagation: Coral Bead Plants can be grown from seeds, from stem tip cuttings (which should be taken in spring), or by division.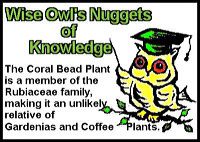 Description and Care Tips
The dark green, tiny leaves of the ornamental, unusual looking Coral Bead Plant grow on their intertwining stems into a thick mat. Small white flowers emerge in early summer. They are followed by typically orange-red berries, although some varieties may have off-white or yellow berries. Often completely covering the foliage, these berries will last for several months.
Due to its need for humidity and cool temperatures, the Coral Bead Plant can be fairly difficult to keep happy as a house plant. Moving it outside in spring will give it the bright light and cool air it requires to bloom and produce its lovely berries. It should be planted in a sheltered spot away from cold winds and direct sunlight. When kept at temperatures that are a little too warm, this plant will not produce berries. It will, however, still look attractive - its foliage is actually very much like that of the Baby's Tears plant.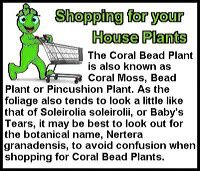 Coral Bead Plants have very shallow roots, which makes them perfect for planting in shallow containers, such as dish gardens, for example. This plant should only be repotted when necessary, and then only in spring. This is also the best time to propagate the Coral Bead Plant by division - simply pull the clump gently apart and plant individual parts into their own containers.