September 28 2012
6
28
/

09
/

September
/

2012
16:55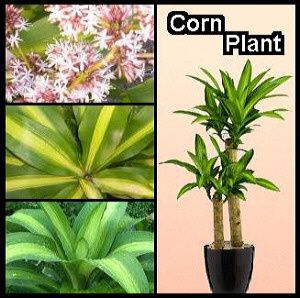 Plant Summary
Botanical Name: Dracaena fragrans 'Massangeana'
Type: Foliage
Origin: Corn Plants originate from tropical East Africa.
Height: Slow growing Dracaena fragrans 'Massangeana' can eventually reach a height of up to 1.8 m (6 ft).
Soil: Any well draining quality potting mix will keep the Corn Plant happy.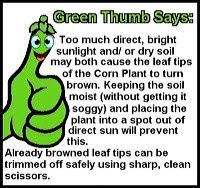 Light: Although it usually prefers bright light, this house plant will tolerate low light conditions if need be.
Humidity: Corn Plants like to be kept in environments with average to moderate humidity levels.
Temperatures: Average temperatures of between 16 and 24 degrees C (60 to 75 degrees F) will be just fine for this plant, but it is essential to ensure it is not exposed to temperatures below 13 degrees C (55 degrees F).
Water: Dracaena fragrans needs to be watered regularly - keeping the potting mix moist without getting it soggy - from spring through into autumn. In winter, allow the top 5 cm (2 in) of potting mix to dry out from one watering to the next.
Fertiliser: A diluted (by half) balanced fertiliser (liquid) should be fed to this house plant once a month, from beginning of spring through to the end of autumn.
Propagation: Stem tip cuttings (approximately 10 to 15 cm (4 to 6 in) long) can be taken during spring/ early summer and rooted in moistened potting mix.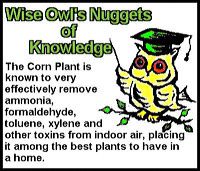 Description and Care Tips
Hardy and relatively easy to care for, the Corn Plant is a tree-like (though unbranched) plant with arched, sword-shaped leaves. The leaves will grow to an approximate length of 60 cm (2 ft) and a width of around 10 cm (4 in). They are dark green in colour, with a wide, creamy-yellow stripe down their centre.
In its native habitat, the Corn Plant occasionally produces strongly scented flowers, but this is rare with plants kept indoors.
As Dracaena fragrans grows, it will lose lower leaves bit by bit, eventually leaving a bare stem with just a cluster of arched leaves at the top. New plants will need time to adjust and get over the shock of moving into a new home. They may lose a few leaves as a result - this is perfectly normal. To prevent the leaves being scorched, the plant needs to be kept out of direct sunlight and away from drafts.
Corn Plants will withstand a lot of abuse, but they will not tolerate being over-watered. Too much fertiliser may also prove damaging. If the leaves turn yellow and begin to droop, it is likely that the plant is being over-watered it may even indicate root rot. Using a pot with drainage holes is vital, and the plant should never be left standing in water.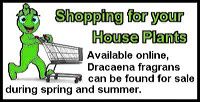 If Dracaena fragrans gets too tall, it can be pruned back in spring/ early summer. The cane may be cut off at any desired height - it will simply grow new leaves from wherever the cut was made. The stem tip cuttings can be used for propagation if desired.
As this is a slow growing house plant that prefers to be a little root-bound, repotting will only become necessary once every three years or so. The new pot should be kept comparatively small, but needs to be heavy, as Corn Plants can get top heavy.