October 4 2012
5
04
/

10
/

October
/

2012
12:46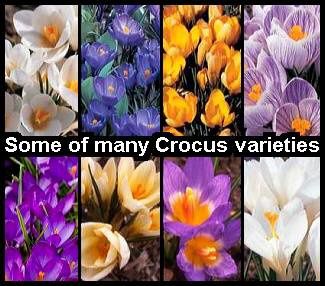 Plant Summary
Botanical Name: Crocus bulb hybrids
Type: Flowering
Origin: The corms of hybrids available originate from Asia, Europe and North Africa.
Height: A Crocus will grow up to a height of approximately 20 cm (8 in).
Soil: Any general purpose, good quality potting mix is acceptable for Crocus bulb hybrids.
Light: During their cold treatment, corms need to be kept in the dark. This needs to be followed by accustomising the young plants to brighter conditions (see below). Blooming plants like bright light, but need to be kept out of direct sunlight.
Humidity: Undemanding, the Crocus is happy with average levels of humidity.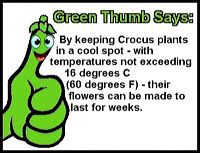 Temperatures: This is one house plant that prefers to be a little cooler - temperatures ranging between 6 and 16 degrees C (40 to 60 degrees F) will encourage blooming for weeks.
Water: Until growth emerges, watering should be done sparingly. Once growing, the soil needs to be kept moist evenly. It is vital to check regularly, as these flowering plants tend to be very thirsty.
Fertiliser: From the moment the Crocus is planted until it begins to bloom, the Crocus should be fed once a month with a balanced, diluted (1:1) liquid fertiliser. Fertilising should stop once blooming.
Propagation: Indoors, corms will not bloom more than once, although they may produce offsets (which will mature over a few years). They can, however, be kept and used outside. Once the foliage has died back, they should be stored somewhere dry and cold. In autumn, they can be planted outside and left to the care of Mother Nature. When they are ready, they will bloom.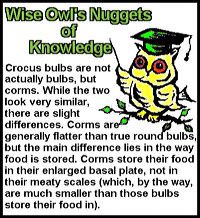 Description and Care Tips
Crocus hybrid bulbs are not actually bulbs, but corms. These corms produce masses of gorgeous cup-shaped flowers in a range of colours, including white, yellow, lavender and purple. Some blooms are plain coloured, while others feature stripes. All of them have bright orange stigmas. The leaves of the Crocus are upright, slender and usually striped in green and white.
One of the first flowering plants to herald spring, the Crocus often pops its lovely, colourful blooms through the last remaining layers of snow. Luckily, it is not necessary to wait for spring in order to wait for these lovely blooms, because the Crocus can be forced to flower indoors during mid-winter. The best time to start the forcing process is in October.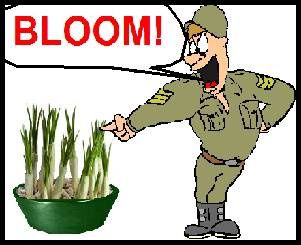 The first step of the forcing procedure is a 12 week cold treatment. Naturally, if pre-chilled corms are purchased, this step can be omitted. To begin, a shallow pot - which needs to be a minimum of 7 cm (3 in) deep - is filled loosely with a good potting mix, leaving enough space to accommodate the corms on top - the tips should end up roughly at the same level as the rim of the pot.
Several corms can then be set closely, but never touching, into the pot with their pointed end facing upwards. They should not be pressed into the soil, as it needs to remain loose enough to allow the roots to grow easily into and through it. The corms are then barely covered with additional soil. While it is tempting to mix Crocuses, it should be noted that different varieties tend to have different flowering periods. It is best to keep each pot to a single variety.
After watering thoroughly and allowing excess liquid to drain off, the pot needs to be moved into a cool - around 4 degrees C (40 degrees F) - and dark spot. A refrigerator, an unheated garage or a basement are ideal, as long as temperatures will not drop to freezing point. They can be kept in the dark by placing another pot, a box or a black bin liner over the pot, but it is necessary to allow for access, as the soil needs to be kept moist throughout this stage.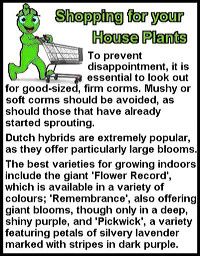 Once the shoots reach a height of around 5 cm (2 in), the pot can be moved to a slightly warmer - around 10 degrees C (50 degrees F) place. Light conditions in the new location need to be low to begin with. The little plants can then be accustomised to brighter light by gradually moving them closer to a sunny window over a few days.
To ensure even growth, the pot should be turned every day. When the Crocus is in full bloom, it needs to be in a bright place, but out of direct sunlight. This, and keeping temperatures comparatively cool (see above) will prolong the blooming period substantially.