October 4 2012
5
04
/

10
/

October
/

2012
20:45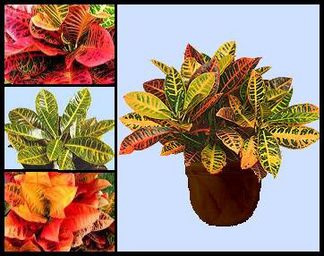 Plant Summary
Botanical Name: Codiaeum variegatum pictum
Type: Foliage
Origin: Croton Plants originate from Malaysia, Northern Australia and the Pacific Islands.
Height: Codiaeum variegatum pictum grows to heights of up to around 90 cm (3 ft).
Soil: This plant should be potted in a mix based on peat moss.
Light: The Croton house plant likes bright like and requires a minimum of 3 hours worth of direct sunlight per day.
Humidity: Being a house plant that loves high humidity, the Croton Plant should be placed onto a wet pebble tray and misted daily.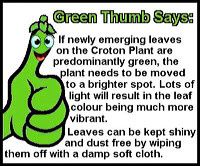 Temperatures: Crotons like to be kept reasonably warm. Temperatures ranging from 18 to 29 degrees C (65 to 85 degrees F) are ideal.
Water: Using tepid water, the soil should be kept moist (evenly) at all times, without allowing it to get too soggy.
Fertiliser: From early on in spring all the way the summer, the Croton Plant needs to be fertilised with a balanced liquid fertiliser that has been diluted to half its strength on a two-weekly basis.
Propagation: Croton stem cuttings should be taken during the spring months and dipped into rooting hormones before being placed into a 1:1 mixture of peat moss and sand, where they will root within a month or so.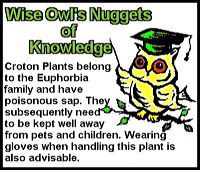 Description and Care Tips
Leathery, stiff leaves in bold greens, yellows, oranges, pinks and reds make the Croton Plant, which is also commonly known as Joseph's Coat, a very popular, beautiful house plant, in spite of the fact that it is not an easy to please plant. The Arrowhead Croton in particular is well thought of, as its unusual leaves will add a wonderful contrast to any group of house plants.
To successfully grow and keep Crotons, lots of sunshine, high humidity levels, moist soil and a warm environment free from drafts are essential. Dry soil or dry air will invariably lead to the leaves of this house plant dropping off.
Naturally bushy, Crotons rarely need pruning, but, if the plant should become too tall, it can be topped (cut back) during spring. The stem cuttings can then be used for propagation.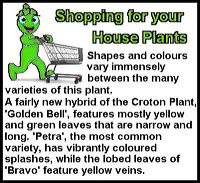 Until the Croton gets to the desired size, it should be repotted in spring, moving up just one container size at the time. Once it has grown to the right size, it can be kept from growing larger by keeping it in the same container and just top dressing it once a year.
Top dressing is done by removing only the top 5 to 7. 5 cm (2 to 3 in) of the soil - taking care not to damage any roots close to the surface - and topping up again with fresh soil.
It is quite common for 2 or three plants to be sold in the same pot. After being kept together for a year, they should be separated to give them the space they need to grow. Separation is done by carefully cutting through the roots with a sharp serrated knife and potting each section in its own container.