October 5 2012
6
05
/

10
/

October
/

2012
15:36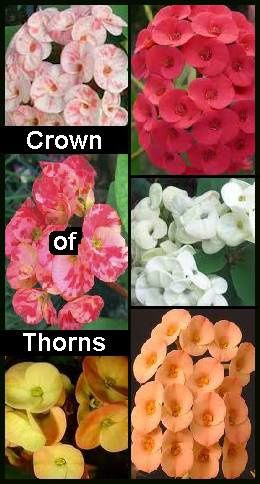 Plant Summary
Botanical Name: Euphorbia milii
Type: Succulent/ Cactus
Origin: The native habitat of the Crown of Thorn is in Madagascar.
Height: Euphorbia milii will grow to heights of approximately 60 cm (2 ft). If required, the plant's height can be controlled by pruning off growing tips.
Soil: This house plant needs to be planted in a fast draining potting mix. A specialised Cactus mix is the ideal choice.
Light: Plenty of bright light and even lots of direct sunshine will be appreciated by the Crown of Thorns.
Humidity: Dry to average humidity conditions are perfect for the Crown of Thorns.
Temperatures: Room temperatures averaging between 16 and 24 degrees C (60 to 75 degrees F) will have this cactus growing nicely. Allowing a cool rest with temperatures around 13 degrees C (55 degrees F) will encourage the Crown of Thorns to bloom.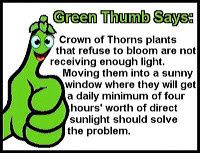 Water: The top 2.5 cm (1 in) of the potting mix should be allowed to dry out between watering sessions. To prevent this house plant from rotting, it is important to avoid getting its stems and leaves wet. During the plant's resting period in the winter months, watering should be reduced to a bare minimum.
Fertiliser: From the beginning of spring right through onto the end of autumn, the Crown of Thorns should be fed every 14 days with a diluted (1:1) balanced liquid fertiliser. Over the winter months, feeding should be reduced to once every 4 weeks.
Propagation: To propagate Euphorbia milii, 7.5 cm (3 in) long stem cuttings need to be taken some time during spring or early summer. The cut end is then dipped into warm water for just a few minutes. This will stop the sap's flow. After allowing the cuttings to dry for a day, they should be inserted into barely moistened potting mix, where they will root within approximately 6 weeks.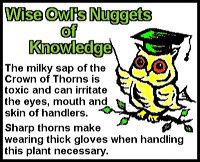 Description and Care Tips
One of the few succulents that are able to bloom almost all year round, the Crown of Thorns produces flowers - which are actually bracts and will last for weeks on end - in a variety of colours, from white and yellow to bright red or pink. The best seasons to see an abundance of blooms are, however, spring and summer. As long as sufficient light is provided, a Crown of Thorns can be depended on to bloom, and many of the hybrids on the market today will produce increased masses of larger flowers than ever before.
Euphorbia milii features bright green leaves along its thorny, thick stems. As the plant gets older, some of its lower leaves will drop off. If it starts looking to leggy, it should be pruned back to around half its size during spring. This will result in new stems growing from below the cuts, making the succulent Crown of Thorns bush fuller and bushier again.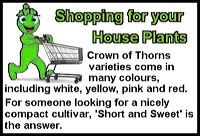 Easy to grow and comparatively drought tolerant, these house plants prefer to live in sandy, slightly dry soil. Because they store water within their thick stems, they do not need to be watered as often as other house plants. Watering should be reduced if the leaves begin to turn yellow and/ or fall off.