October 6 2012
7
06
/

10
/

October
/

2012
14:57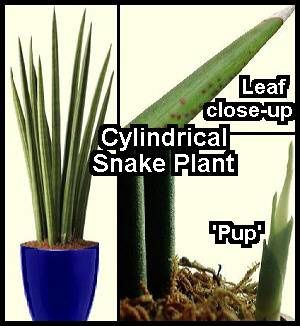 Plant Summary
Botanical Name: Sansevieria cylindrical
Type: Succulent/ Cactus
Origin: The Cylindrical Snake Plant originates from South Africa.
Height: Sansevieria cylindrical typically grows to a height of up to 60 cm (2 ft).
Soil: A cactus or other soilless potting mix is perfect for this striking house plant.
Light: Cylindrical Snake Plants love bright light.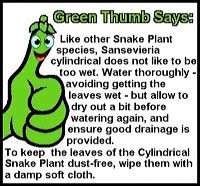 Humidity: Average humidity levels are required for the Cylindrical Snake Plant, although it will tolerate dry air to a certain extent. It should, however, be kept well away from drafts and/ or air vents.
Temperatures: Preferably kept at room temperatures between 18 and 24 degrees C (65 to 75 degrees F), Sansevieria cylindrical will tolerate temperatures that are fluctuating, as long as they do not drop below 13 degrees C (55 degrees F).
Water: After watering thoroughly, the potting mix should be allowed to dry out before watering this house plant again. It is important not to water the Cylindrical Snake Plant from the centre of its rosette, as this will cause the leaves to rot.
Fertiliser: A balanced - like NPK 15-15-15, for example - liquid fertiliser diluted to half its strength with water should be fed to this plant on a monthly basis during the spring, summer and autumn months.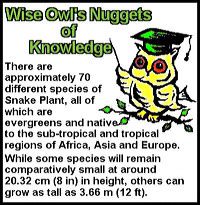 Propagation: Like all Snake Plants, this species can be propagated by separating its offsets - known as pups - growing from the parent's base. Dividing this plant is easy enough: after turning the pot onto its side, the plant is eased out carefully. The pups can then be cut off the parent plant using a sharp, serrated knife and planted into their own containers.
Description and Care Tips
Round leaves with a pattern of dark green stripes give the carefree, eye-catching Cylindrical Snake Plant - an African succulent - its name. Another name commonly used for this house plant is Spear Plant, a name it owes to the pointed tips at the end of its leaves. Owners are advised to be careful, as these points tend to be rather sharp.
Growing in a rosette, the tubular, grey-green leaves of the Cylindrical Snake Plant are approximately 2.5 cm (1 in) in thickness. Mature plants will occasionally produce creamy white, long flower spikes with a beautiful fragrance.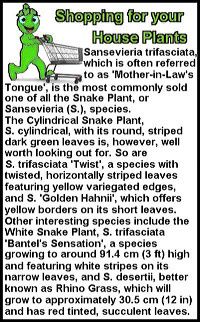 Related to the Mother-in-Law's Tongue - and just as carefree and easy to grow - this plant has a bold, fresh style that will add a striking accent to a collection of house plants. Because Sansevieria cylindrical is so easy going and highly tolerant of both dry air and dry soil, it lends itself perfectly as an office plant.
The only problems likely to arise with this plant are usually related to over-watering. The soil should definitely be allowed to dry out between watering sessions, and it is vital not to get the leaves wet - they will rot easily. Leaves that get soft, even mushy, at the base or turn yellow are a good sign that the plant is being over-watered. Apart from soggy soil, the only other thing likely to kill a Cylindrical Snake Plant is prolonged exposure to temperatures close to or below 13 degrees C (55 degrees F).