October 18 2012
5
18
/

10
/

October
/

2012
22:28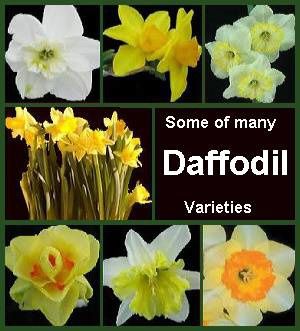 Plant Summary
Botanical Name: Narcissus spp.
Type: Flowering
Origin: Daffodils originate from Europe.
Height: Miniature varieties of the Daffodil will grow to heights of around 15 cm (6 in), while regular varieties can grow up to 46 cm (18 in) tall.
Soil: Narcissus spp.grow best in peat-moss based soil, or, to be more precise, potting mix.
Light: This plant likes indirect bright light. Turning the pot every now and then is recommended, as Daffodils lean towards light while growing.
Humidity: Average levels of humidity will be adequate for this house plant.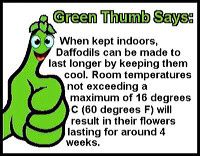 Temperatures: Being spring flowers, Daffodils like to be cool. Temperatures around 16 degrees C (60 degrees F) are optimal.
Water: The soil needs to be checked frequently to ensure it remains lightly moistened, as Daffodils are thirsty, especially while growing.
Fertiliser: A diluted (to half its strength) balanced fertiliser should be fed to daffodils every two weeks.
Propagation: It is not possible to force Daffodil bulbs into blooming indoors for a second year. They can, however, be kept planted outside, although it may take a couple of years before they bloom again even there. To keep them, their foliage should be allowed to naturally die back. The bulbs should then be stored in a dry, cool place until autumn, when they can be planted in the garden.
Description and Care Tips
Naturally blooming in spring, Daffodils can be forced to bloom from mid-winter to early spring. The process of forcing them is comparatively easy and should be started between October and November.
To force Daffodils, a 15 cm (6 in) deep, wide pot needs to be filled loosely with a suitable potting mix. The bulbs are then set - nose end up - into the soil, taking care not to press them in too much, as the soil needs to be loose enough to allow the tender roots to grow into it. The bulbs should not be allowed to touch, and their tips should be roughly at level with the rim of the container. A little extra potting mix is then added to barely cover the bulbs' noses.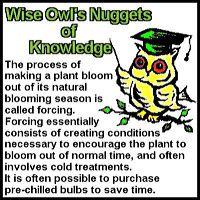 Unless the bulbs were purchased pre-chilled, the pot then needs to be stored in a cool - temperature should be between 4 and 7 degrees C (40 to 45 degrees F), not freezing - and dark place for 8 to 10 weeks. Regular checking to ensure the soil remains moist is essential throughout this period, which is known as the 'cold treatment' period. A refrigerator, unheated garage or basement will be perfect. Potential damage caused by the ethylene gas given off by ripening fruit/ vegetables needs to be avoided by keeping the pot well away from such fruit/ vegetables.
When the young shoots reach a height of around 5 cm (2 in), the pot can be moved into a slightly warmer (maximum temperature 10 degrees C, or 50 degrees F, low light position. Moving the pot slowly and gradually closer towards a sunnier place will result in the Daffodils lasting longer. To ensure the plants grow evenly, the pot should be turned daily.
Once in full bloom, the potted Daffodils can be placed into direct sunlight. Keeping temperatures down to a maximum of approximately 16 degrees C (60 degrees F) will help to make the flowers last for a month or so.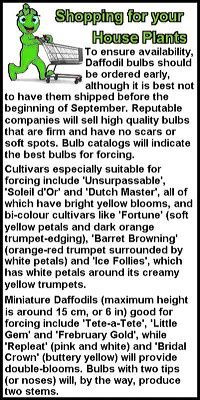 As far as varieties are concerned, there are plenty to choose from. Shades range from white and pink to cream, yellow or orange. The cup, often also referred to as the trumpet, may contrast in colour from the surrounding petals, some of which may be frilly. Some varieties offer double blooms or blooms with two colours, too.
Then, of course, there are the miniature varieties, which are especially good for indoor use and make a charming display when planted closely together in a pretty pot. On some of the larger varieties, by the way, the flower heads tend to get rather heavy. To avoid them breaking off, they should be staked.
Although mixing colours in one pot is a tempting thought, it should be avoided, as Daffodil varieties tend to flower at different times. The most attractive displays are achieved with just one variety per container.