October 18 2012
5
18
/

10
/

October
/

2012
23:02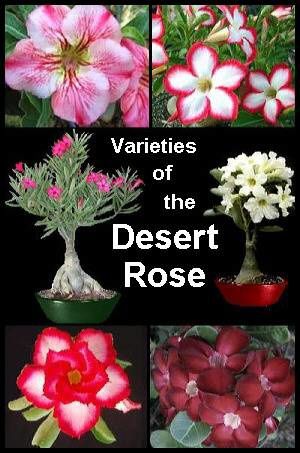 Plant Summary
Botanical Name: Adenium obesum
Type: Succulent/ Cactus
Origin: Adenium obesum has its native habitat in East Africa.
Height: Regular sized Desert Roses can grow up to 90 cm (3 ft) tall, while the bonsai varieties will typically only grow to about 30 cm (1 ft) in height.
Soil: Cactus potting mix, or a mix of equal parts of sharp sand and peat moss are perfect for this house plant, which requires a fast draining potting medium.
Light: The Desert Rose likes to be in direct sunlight.
Humidity: This house plant is quite happy in average levels of humidity.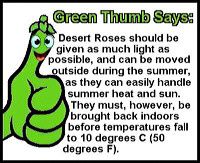 Temperatures: This species likes average room temperatures to range between 16 and 24 degrees C (60 to 75 degrees F).
Water: The aim when watering the Desert Rose is to keep the soil just moist. If there is one thing this otherwise fairly undemanding plant will not tolerate, it is over-watering. It is, in fact, better to err on the dry side.
Fertiliser: From the beginning of spring through to the end of autumn, the Desert Rose should be fed every two weeks. A balanced liquid fertiliser that has been diluted to half its original strength will be perfect.
Propagation: Adenium obesum is propagated from seeds.
Description and Care Tips
Branching naturally, the Desert Rose is a tree-like, most attractive house plant with evergreen, long leaves covering the plant's succulent stems from top to bottom.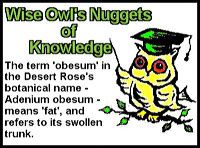 In summer, owners can expect an abundance of gorgeous red or pink flowers. Growing in clusters from the stems' tips, these flowers are a sight to behold for months, as the blooms will appear in succession.
Desert Roses are extremely easy to care for. All they require to happily thrive and bloom is a well-draining, sandy potting mix (a mix specifically for cacti is ideal), a sunny window and just enough water to keep it from drying out.
As the Desert Rose will store water in its thick trunk, it will not require frequent watering. It should be noted that getting the plant's base wet may result in it rotting (something the plant is unlikely to recover from), so making sure the water is only applied to the potting mix is recommended.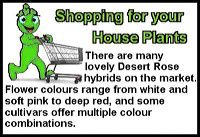 In winter, a lack of light, cold temperatures or dry soil may cause the Desert Rose to go dormant and drop its leaves. This is nothing to worry about - once the plant gets what it wants (light, water, warmth), the leaves will soon grow again.
A word of warning: As the sap of this house plant is toxic, it should be handled with care and must be kept away from curious children and pets.