October 19 2012
6
19
/

10
/

October
/

2012
13:54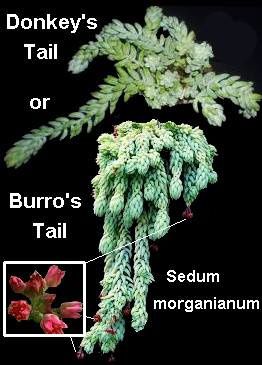 Plant Summary
Botanical Name: Sedum morganianum
Type: Succulent/ Cactus
Origin: The Donkey's Tail, Sedum morganianum, originates from Mexico.
Height: The stems of this house plant will trail up to 90 cm (3 ft).
Soil: Ideally, the Donkey's Tail should be planted in a good cactus potting mix.
Light: Sedum morganianum likes bright light and can cope with a little direct sun, although it should be shaded from strong hot summer sun.
Humidity: This house plant prefers average levels of humidity, but will tolerate comparatively dry air. It must, however, be kept out of drafts.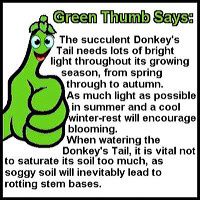 Temperatures: Ideal room temperatures for the Donkey's Tail should range between 18 and 24 degrees C (65 to 75 degrees F). To promote blooming, a cool winter rest with temperatures of 13 to 16 degrees C (55 to 65 degrees F) is recommended.
Water: While the soil needs to be kept slightly moist during spring and summer, the Donkey's Tail should only be watered sparingly during autumn and winter. Shrivelled leaves indicate that the plant is not receiving enough water.
Fertiliser: Dilute a balanced liquid fertiliser by half and feed it to the Donkey's Tail once a month during the months of spring and summer.
Propagation: Sedum morganianum can be propagated from 5 to 7 cm (2 to 3 in) long stem tip cuttings, which should be taken in spring. After exposing the stem by removing the lower leaves, the cuttings are inserted into a 1:1 mixture of peat moss and sharp sand. It is also possible to propagate this house plant from leaf cuttings, following the described method. Either way, the potting mix must be kept moist and, as this could take a month or two, patience is required.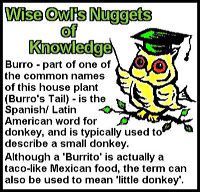 Description and Care Tips
The stems of the succulent Donkey's Tail, which is sometimes also referred to as Burro's Tail, are thickly covered in plump blue-green, overlapping leave, which will spill out of and trail down the side of the plant's container.
Rarely known to bloom indoors, the Donkey's Tail can be encouraged to bloom by giving it a cool winter rest. Temperatures should not be allowed to drop below 13 degrees C (55 degrees F), and the plant should not be fertilised from the beginning of autumn through into the beginning of spring. Watering should also be reduced during this period.
If successful, the Donkey's Tail will produce lovely, succulent red or pink flowers in summer. The flowers will appear in tiny clusters at the plant's stem tips.
While the plant does require plenty of bright light, care should be taken not to expose it to full summer sun, as this will very quickly result in the plant suffering from sunburn.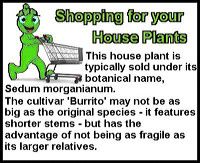 Repotting needs to be done in spring, but only when the plant has filled its pot. A shallow pot will be fine, as the Donkey's Tail's roots do not grow very deep, but it is essential to ensure the pot has drainage holes.
As this house plant is exceptionally fragile - its leaves are likely to fall off even at the gentlest touch - it is best kept out of high traffic areas to prevent accidental damages. It is, in fact, best to place it into a hanging basket and only go near it to water and/ or fertilise it.