October 19 2012
6
19
/

10
/

October
/

2012
23:42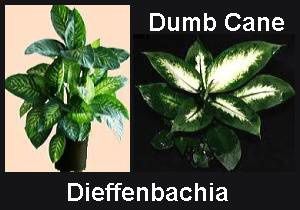 Plant Summary
Botanical Name: Dieffenbachia
Type: Foliage
Origin: Dieffenbachias, or Dumb Canes, originate from Brazil.
Height: Regular Dumb Cane plants will grow to heights of between 30 cm and 1.8 m (1 to 6 ft), while some of the newer compact hybrids will only reach maximum heights of 30 to 60 cm (1 to 2 ft).
Soil: To provide adequate drainage for this plant, the potting mix needs to be soilless.
Light: The Dumb Cane needs bright light, but should not be exposed to direct sunlight. Turning the plant frequently will encourage even growth.
Humidity: Dieffenbachias will do well in rooms with average levels of humidity.
Temperatures: Ideally, room temperatures should not fall below 18 degrees C (65 degrees F) or rise above 24 degrees C (75 degrees F).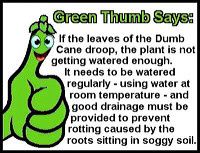 Water: After watering thoroughly, the soil should be allowed to dry a little before watering again.
Fertiliser: From the onset of spring to the end of summer, Dieffenbachias should be given a diluted (1:1) liquid fertiliser every two weeks. This should be reduced to monthly feeds during autumn and winter.
Propagation: Stem tip cuttings - around 8 to 13 cm (3 to 5 in) long should be taken during the months of spring or early summer and inserted into moistened potting mix. Dieffenbachias also produce offsets (known as pups) from the base of their stem. These pups can be cut off and planted in separate pots.
Description and Care Tips
The highly popular and attractive Dieffenbachia needs to be handled with care, because its poisonous sap not only causes skin irritations, but, if eaten, may also cause rather painful swelling of the throat and mouth. It may also be responsible for a loss of voice, which is why it was given the common name Dumb Cane. In any case, it is best to wear gloves when handling this plant.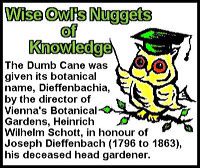 The broad, handsome leaves of the Dumb Cane are speckled, splashed or streaked in white and green, and will grow to a length of around 25 cm (10 in), while the thick, single trunk will unwind into several smaller trunks as the plant matures.
To control the height of this house plant, its top may be cut off using sharp, clean pruners (it is important to leave a few leaves in place). In time, new growth will appear from where the plant was cut.
As the plant matures, it will outgrow its pot from time to time. The best time to repot it is in spring or during the first few weeks of summer. Naturally, a container with drainage holes should be used to prevent problems caused by soggy soil.
Just about all of the problems the Dumb Cane may develop will show up in its leaves. While it is normal for older leaves to eventually turn yellow and fall off, new leaves falling off is a sign that the Dieffenbachia is too cold. It particularly dislikes cold drafts, so it should be kept well away from windows and doorways.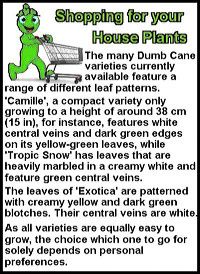 Sporadic watering will result in the leaf tips browning. Dumb Cane needs to be watered regularly, although it is important not to get the soil soggy. Crispy, curled up leaf tips may indicate that the Dumb Cane has been given too much fertiliser.
In this case, the soil needs to be flushed with clean water, in order to remove any fertiliser that has accumulated there. The plant should be given at least a month before fertilising it again.
Should the leaves lose their variegation, it is likely that the plant is not receiving sufficient light. It should have at least moderate light, although bright light is better. Direct sun, however, is a big no-no, as this will cause the leaves to scorch, leaving them dry and covered in brown spots.