October 28 2012
1
28
/

10
/

October
/

2012
17:35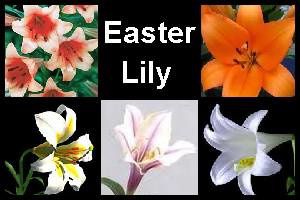 Plant Summary
Botanical Name: Lilium Longiflorum
Type: Flowering
Origin: Easter Lilies originate from Taiwan and the Ryukyu Islands of Japan.
Height: Lilium Longiflorum plants will grow to approximate heights of 90 cm (3 ft).
Soil: This house plant will be served best with a high quality general purpose potting mix.
Light: The Easter Lily needs to be situated in a spot where it will receive bright light.
Humidity: Average levels of room humidity will be sufficient for this plant.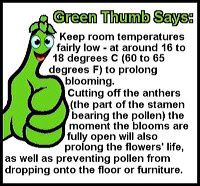 Temperatures: The Easter Lily is quite happy in temperatures ranging between 16 and 24 degrees C (60 to 75 degrees F).
Water: The potting mix for this plant should be kept just lightly moistened.
Fertiliser: Unless the plan is to transplant the Easter Lily's bulbs to an outdoor position, fertilising will not be necessary. If transplanting is planned, the plant should be fed - using a liquid, balanced fertiliser, once a month.
Propagation: Easter Lilies are propagated via bulbs.
Description and Care Tips
Traditionally purchased as Easter gifts or decorations, because their large, pristine white and trumpet-shaped flowers symbolise life and purity, Easter Lilies must have their protective plastic sleeve removed as soon as the potted house plant is brought home.
This will ensure that adequate air circulation is provided. The foil pot covering should also be removed, as it may otherwise cover the drainage holes and cause the soil to become soggy, which may in turn cause the bulb to rot.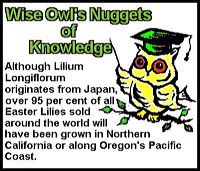 Providing good air circulation and plenty of bright light, while keeping the soil just moist throughout, will ensure the Easter Lily will thrive and flower for quite some time. Keeping room temperatures fairly low (see above) and cutting off the pollen-bearing parts of stamens (anthers) just as soon as each bloom fully opens will also help to prolong blooming. The Easter Lily can be kept looking its best by removing spent flowers as soon as possible.
Although Lilium Longiflorum will not bloom for a second year if kept indoors, it can be placed into a bright position in the garden. Bulbs do not need to be stored, as they do not enter a state of dormancy, and can be planted out once the risk of frost is over.
They should be planted in well-drained, rich soil about 30 cm (12 in) apart and 15 cm (6 in) deep. Kept in the garden, this plant needs to be watered well and should be fertilised once every four weeks during spring and summer.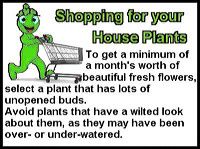 Unlike the purchased plants, which are forced into blooming by the Easter holiday, outdoor Easter Lilies will not flower until early summer, which is their natural time to bloom.
Faded flowers need to be dead-headed, and once the foliage has yellowed, stems should be cut back. To protect the plant during the cold winter months, it should be mulched. The mulch covering will need to be removed once spring arrives, to allow the growth of new shoots.