November 14 2012
4
14
/

11
/

November
/

2012
14:08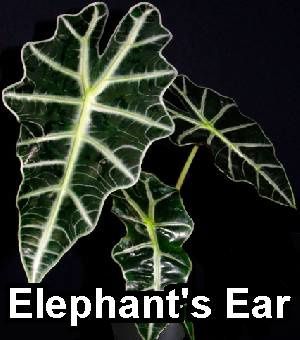 Plant Summary
Botanical Name: Alocasia x amazonica
Type: Foliage
Origin: The Elephant's Ear originates from tropical Asia.
Height: Alocasia x amazonica will grow to heights of around 60 cm (2 ft).
Soil: This house plant prefers a peat moss potting mix.
Light: Elephant's Ears need plenty of bright light, but should be kept out of direct sunlight.
Humidity: As this plant likes moist air, use of a room humidifier is recommended.
Temperatures: Being a tropical plant, Alocasia x amazonica is best kept in rooms with average to warm temperatures of 18 to 24 degrees C (65 to 75 degrees F).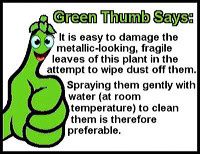 Water: This plant is actively growing from spring through into autumn, and it is necessary to keep the soil moist throughout this period. Watering should be reduced in winter, allowing the soil to almost dry out between watering sessions.
Fertiliser: During the growing period (spring to autumn), the Elephant's Ear should be fertilised using a diluted (50:50) liquid 20-10-10 fertiliser on a fortnightly basis. Feeding is not required during the winter months.
Propagation: Alocasia x amazonica can be propagated by dividing its rhizomes and potting them in separate containers in spring. The rhizome's top surface should be kept above the soil's surface to prevent rotting of the growing stems at soil level.
Description and Care Tips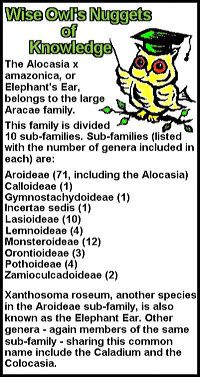 The exotic Elephant's Ear is kept predominantly for its striking foliage, as its flower - a spathe surrounding a spadix - is somewhat insignificant. The foliage really is spectacular, with glossy dark green, arrow-shaped leaves - featuring scalloped edges and a dramatic pattern of silver-green veins - being carried by upright, thick stems.
It must be said that this house plant is among the fussier plants to keep, as it craves high levels of humidity. Using a room humidifier and/ or a wet pebble tray and misting the leaves regularly with room-temperature water will, however, keep it quite happy. Misting the plant will also help to keep red spider mites - a pest fond of Elephant's Ear - at bay, as this little critter tends to prefer slightly drier conditions.
When it becomes necessary, the Elephant's Ear should be repotted in spring, and it should be given a resting period during winter. Fertilising needs to be stopped completely for this time, and watering should be reduced in frequency. The soil should be allowed to almost dry from one watering to the next during this period.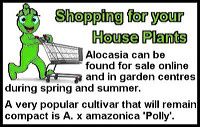 If the soil is allowed to dry out completely, the plant may enter a state of dormancy. This is nothing to worry about, as continued good care and plenty of humidity will result in the plant recovering within a month or so.