November 14 2012
4
14
/

11
/

November
/

2012
16:45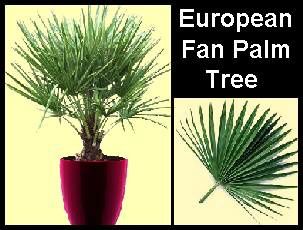 Plant Summary
Botanical Name: Chamaerops humilis
Type: Foliage
Origin: The European Fan Palm originates from the mountainous regions of Mediterranean countries including France, Italy, Malta, Portugal and Spain.
Height: Chamaerops humilis can reach heights of up to 1.2 m (4 ft).
Soil: For best results, two parts of peat moss potting mix should be combined with one part of sharp sand. Repotting is typically only necessary every three years or so.
Light: This house plant requires a minimum of four hours' worth of direct sunlight per day.
Humidity: European Fan Palms are quite content with the average levels of humidity present in most homes.
Temperatures: While enjoying temperatures ranging from 21 to 27 degrees C (70 to 80 degrees F) during the day, Chamaerops humilis prefers to be much cooler - at temperatures between 10 and 16 degrees C (50 to 60 degrees F) - during the night.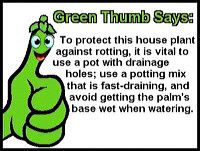 Water: From early spring until the end of summer, the soil for this plant needs to be kept constantly moist. Throughout autumn and winter, however, the top layer (around 5 cm, or 2 in) should be allowed to dry out before watering again.
Fertiliser: Monthly feeds using a diluted (1:1) liquid 10-10-10 fertiliser should be administered during the months of spring and summer. Chamaerops humilis should not be fed in autumn and winter.
Propagation: Seeds sown in spring - barely covered with soil and kept both warm (at 24 to 27 degrees C, or 75 to 80 degrees F) and moist - will take a few weeks to germinate, so patience is required. The European Fan Palm, unlike many other palms, also readily produces suckers, which can be cut off and planted in their own pots.
Description and Care Tips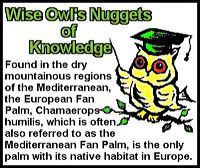 Given plenty of sunlight, warm days, cool nights and continually moistened soil, the shrubby European Fan Palm is fairly easy to grow, and will reach heights of 1.2 m (4 ft) when kept indoors.
As Chamaerops humilis matures, its fine-textured, silvery or blue green leaflets, or fronds - 10 to 20 of which will grow into a rounded fan up to 60 cm (24 in) across - naturally split, and numerous sharp spines develop from its trunk.
In spite of being slow-growing, this long-lived palm will provide a stunning accent for many years, even while still relatively small.
This plant has very fragile roots, so it should only be repotted when absolutely necessary, typically about once every three years. Because these roots tend to grow deep, rather than spreading across, it is essential to use a deep pot for the European Fan Palm. When the plant has reached the desired size, it is sufficient to top-dress it (replacing roughly the top 5 to 7 cm, 2 to 3 in of the soil). Naturally, it is important to avoid disturbing any roots close to the surface.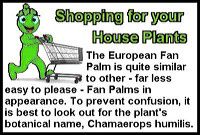 Like other palms, Chamaerops humilis is very sensitive to the chemicals found in tap water (chlorine, fluoride and others), as well as the salt in softened water. It is therefore recommended to use distilled, filtered or collected rain water for watering, as this will prevent a potentially lethal build-up of toxins in the soil.