June 7 2012
5
07
/

06
/

June
/

2012
12:01
Light, water and the right amount of humidity alone are not enough to keep a house plant healthy and growing strong, it will also need nutrition provided by the right kind of fertiliser. The type of fertiliser required will depend on the type of plant, and it is essential to choose the right sort of food for a plant by reading the labels very carefully.
Basic Ingredients of a Fertiliser
Most fertilisers carry a set of three numbers, typically looking something like this: 10-15-10. These numbers respectively represent the percentages of the main nutrients - nitrogen, phosphorus, potassium (or potash) - contained within the fertiliser.
The nitrogen will promote growth and allow the plant to grow lush, green foliage, while the phosphorus is a nutrient designed to keep roots healthy and strong, as well as promoting flowering. The potassium content assists in fighting off diseases and keeps the plant's stem strong.
As a rule, fertilisers for flowering house plants will contain more potassium and phosphorus, with lower amounts of nitrogen. Some fertilisers are designed specifically for one particular type of plant, such as orchids, for example, but most house plants prefer a fairly balanced, 10-10-10 formula fertiliser.
House plants also need other nutrients, generally referred to as trace minerals. These micro-nutrients, as they are called, include calcium, sulphur, magnesium, copper, zinc and iron, the former three of which can be found in high quality potting mixes, while the latter three will only be present in minute quantities. House plants that are not re-potted frequently will need to have these micro-nutrients replenished via a fertiliser.
Types of Fertiliser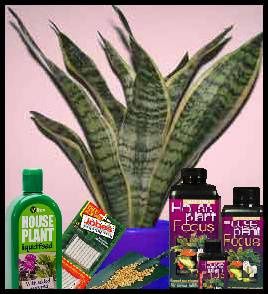 The most common and easy to use fertilisers for house plants are water soluble and come in the shape of crystals or granules, liquid, powder or sticks. Slow release granules are simply sprinkled onto the soil and will gradually dissolve as the plant is watered.
The sticks or spikes work in a similar way, but are pushed right into the soil, preferably close to the edge of the pot, as this prevents the plant's roots from being damaged. While most nutrients are absorbed by the roots, some can be absorbed by the leaves. It is, however, vital to use only a specifically formulated foliar fertiliser to spray the leaves, as regular fertilisers may scorch the leaves if sprayed directly onto them.
Signs that a Plant needs Fertiliser
There are several signs pointing to a house plant needing some fertiliser. These signs include pale or dropped leaves, small flowers or no flowers at all, weak stems and weak new growth. It should be noted that too much fertiliser can be damaging, so it is essential to be careful. Signs of over-fertilising include wilting or mis-shaped leaves, scorching along the edges or brown spots all over the leaves or a white crust on top of the soil.
Points to Remember
Strangely enough, manufacturers tend to suggest a maximum amount to use. While this is great for their sales, it is not quite so grand for the plants, and as a rule, it is quite sufficient to use half the recommended amount.
New, or freshly re-potted plants should not be fertilised for at least a month or two, as they are stressed and need to settle for a while. The nutrients contained within the soil will keep them happy for quite some time before fertilising becomes necessary. Plants suffering from insects, diseases or root damage should also not be fed until they have recovered.