December 8 2012
7
08
/

12
/

December
/

2012
11:30
Plant Summary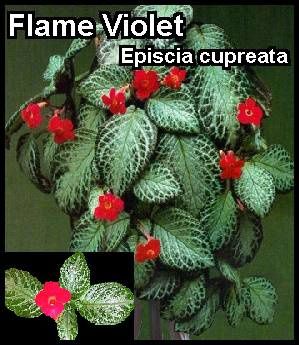 Botanical Name: Episcia cupreata
Type: Flowering
Origin: Episcia cupreata originates from Colombia and Venezuela.
Height: Flame Violets will grow to around 15 cm (6 in) in height.
Soil: Ideally, Flame Violets should be potted in a peat moss based or African Violet potting mix.
Light: Episcia cupreata should be given plenty of indirect bright light.
Humidity: This plant requires high levels of humidity. Levels of relative humidity below 50 per cent need to be raised with the help of humidifiers or wet pebble trays. Misting is not an option, as water will cause spots on the leaves, which are also prone to fungus infections.
Temperatures: The Flame Violet prefers to be kept cool, especially when blooming. Night temperatures should range between 13 and 18 degrees C (55 to 65 degrees F), and day temperatures should not exceed 24 degrees C (75 degrees F).
Water: From spring to autumn, the potting mix needs to be kept evenly moistened. Watering should be reduced during the winter months.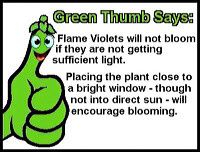 Fertiliser: Episcia cupreata needs feeding with a diluted (half and half) liquid 10-10-10 fertiliser once a fortnight from spring through into late autumn.
Propagation: Flame Violets can be propagated from stem cuttings (single leaf) taking during spring, or via their stolons, or runners, which have little new plants on their ends.
Description and Care Tips
The showy leaves of Episcia cupreata combine varying shades of coppery brown and green, often marked with silver or pale green veins. Growing in a rosette and reaching length of 5 to 8 cm ( 2 to 3 in), the have a lovely metallic-sheen, which makes this plant simply irresistible, even before its tubular, dainty bright flowers start emerging in spring.
Typically red, though pink, yellow or orange on some varieties, these flowers rise up above the foliage on their stems. With their tips flaring out like little trumpets, each flower features a yellow eye deep in the trumpet's centre, and some may feature fringed edgings. With a little loving care, Flame Violets will continue to bloom throughout the summer and into autumn.
Direct sunlight may scorch this house plant's leaves, and should therefore be carefully avoided, as should drafts and blasts of hot/ cold air from heat or AC vents. To prevent flower buds from shrivelling before they get a chance to open and leaves developing unsightly brown edges, humidity levels must be kept fairly high.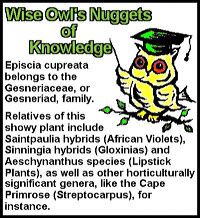 If a plant refuses to bloom, it often helps to remove the stolons, or runners, it produces. There is no need to discard the removed runners, as they can be used to propagate Episcia cupreata (see below).
To prevent soil sickness, the Flame Violet should be repotted every two years or so. As it roots shallow and tends to spread, a shallow, wide pot is ideal. Alternatively, this plant can be placed into a hanging basket, allowing its stems to trail down the side. A similar effect can be achieved by placing the plant's pot onto a pedestal or the edge of a shelf.
Pinning the Flame Violet's stolons down into the pot/ hanging basket will create a much fuller, beautifully lush appearance. Once the container is adequately filled, additional stolons can be allowed to hang over the side, where they will continue to grow and eventually produce their own flowers and runners. The effect of this display is stunning, to say the least.
There are two effective ways of propagating Episcia cupreata. One method is to dip the cut end of stem cuttings first into water, then into hormone rooting powder. The cutting is then placed into moist potting mix, which needs to be firmed down around the stem to keep it upright.
With the pot completely covered in plastic to retain moisture, root development should begin within around one month. A month or so later, it should be possible to see formation of small plantlets from the cutting's base.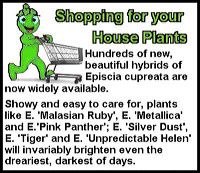 As mentioned earlier, the stolons produced by the Flame Violet offer another opportunity for propagation. They can be either cut off and rooted in moist soil (again in a pot covered in plastic) independently from the parent plant, or rooted while still attached. To root the plantlet on the end of a stolon still attached to the original plant, a small pot filled with moistened potting mix needs to be placed close to the parent.
The free plantlet-end of the stolon is then placed on top of the soil in the little pot and pinned into place. Paper clips or hair pins are ideal for this purpose. Once roots have been established, the stolon can be cut away from the parent.