December 8 2012
7
08
/

12
/

December
/

2012
21:25
Plant Summary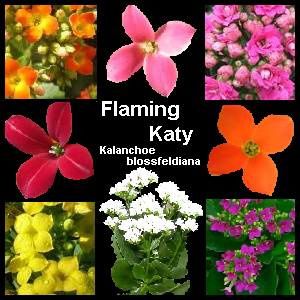 Botanical Name: Kalanchoe blossfeldiana
Type: Succulent
Origin: Kalanchoe blossfeldiana originates from Madagascar
Height: Flaming Katy will grow to a height of around 20 to 38 cm (8 to 15 in).
Soil: This lovely house plant will do best in a 2:1 mixture of general purpose potting mix and perlite or sharp sand.
Light: Plenty of bright light and some full sun will keep this plant happy.
Humidity: K. blossfeldiana is most comfortable in average levels of humidity.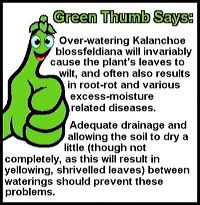 Temperatures: Average temperatures should range between 16 and 24 degrees C (60 to 75 degrees F) for Flaming Katy plants.
Water: As this plant can cope with dry conditions much better than it copes with soggy soil, it is vital not to over-water it. Keeping the soil just slightly moist, allowing it to dry a little between watering sessions and providing adequate drainage will keep it trouble and disease free. During its resting period (after flowering), watering should be reduced.
Fertiliser: Flaming Katies only need to be fed once a month (spring to autumn), preferably with a liquid, balanced fertiliser.
Propagation: Kalanchoe blossfeldiana can be propagated from stem cuttings. The best time for propagation is late spring.
Description and Care Tips
Unlike most other succulents, Flaming Katy is grown predominantly for its blooms, rather than its glossy, scallop-edged green leaves, which can develop a red tinge when the plant is exposed to full sunlight.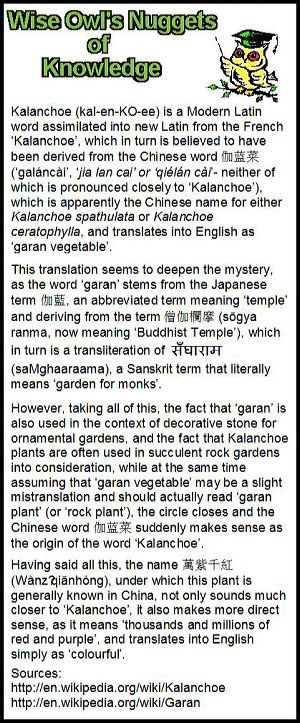 Although quite thick and apparently sturdy, these leaves are quite brittle in reality, and need to be handled with care to prevent their tips breaking off.
When blooming, Flaming Katy provides a spectacular display of tiny white, pink or red; yellow, orange or purple flowers which emerge in bright clusters and will last for weeks.
Some of this gorgeous house plant's hybrids will produce multiple clusters of as many as 50 flowers at a time. Deadheading the plant and cutting off spent flower stems will encourage more flowers and keep the plant looking tidy.
Once all flowers have faded, watering should be reduced to give Kalanchoe blossfeldiana a well-earned rest. Although this plant is generally quite easy to care for, getting it to flower a second time can be a little problematic.
Essentially, to set buds, it needs a period of long sunny days, which then needs to be followed by 'shorter days'. If placed outside for the summer it should be kept in a shaded position where it will only get a little morning sun.
Starting in the first week of October, it should be given only moderate light during the day for two weeks, during which it needs to be kept in a darkened room for around 14 hours per night.
Watering should be reduced to a bare minimum during this period, although it is vital not to allow the soil to get too dry, as this will cause the leaves to turn yellow and shrivel up.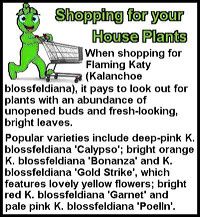 Around 6 to 8 weeks later, the first buds should start appearing, at which point normal care - keeping the soil just moist and feeding monthly - may be resumed. Even if flowering is not as abundant - and perhaps a little more erratic - than the first time round, the plant's attractive foliage still makes it worth keeping.
There are comparatively few pests that will bother Kalanchoe blossfeldiana, but it is certainly recommended to watch out for the fuzzy white patches underneath leaves and near leaf axils indicating the presence of mealybugs, a fairly common invader of succulents. Root mealybug in particular may cause wilting, so it may become necessary to ease the plant carefully out of its container and inspect the roots for this little critter.