December 9 2012
1
09
/

12
/

December
/

2012
16:06
Plant Summary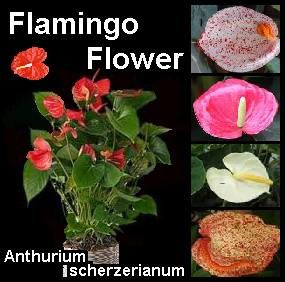 Botanical Name: Anthurium scherzerianum
Type: Flowering
Origin: The Flamingo Flower originates from the tropical, warm regions of Costa Rica/ Central America.
Height: Anthurium scherzerianum can grow to heights of 30 to 45 cm (12 to 18 in), and it may become necessary to stake the flower stalks.
Soil: African Violet mixes tend to work well for this plant, although any quality potting mix (peat moss based) will do the trick.
Light: Flamingo flowers will refuse to bloom if they do not get enough bright light. They should, however, not be placed into direct sun.
Humidity: Relative humidity needs to be at least 50 per cent, as this house plant likes moderate to high levels of humidity. It may be necessary to use room humidifiers or humidity trays to raise humidity to adequate levels. Grouping Anthurium scherzerianum with other humidity-loving tropical plants should also help.
Temperatures: Being a tropical plant, the Flamingo Flower needs temperatures ranging between 18 and 24 degrees C (65 to 75 degrees F). Drops in temperature to 10 degrees C (60 degrees F) or below will result in the leaves of this house plant turning yellow. Drafts should also be avoided.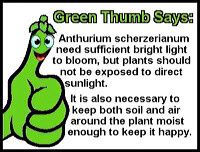 Water: To keep Anthurium scherzerianum well and happy, its soil should be kept evenly moist - though never soggy, as this will also result in yellow leaves - throughout the year.
Fertiliser: Flamingo Flowers benefit from being fed twice a week (during spring and summer) with a diluted (50:50) liquid fertiliser high in phosphorus.
Propagation: Anthurium scherzerianum can be propagated via division of crowded clumps in spring. To provide them with the best possible start, humidity levels should be high. It is also possible to propagate this house plant from seeds.
Description and Care Tips
Best known for its colourful, often red, oval spathes and their orange twisted spadix, which is densely covered in the plant's tiny true flowers, Anthurium scherzerianum - the Flamingo Flower - has attractive dark green, pointed and naturally glossy leaves. Surrounding the the plant's flower stems, these leaves grow up to around 18 cm (7 in) long.
Native to Central America's warm tropical regions, the Flamingo Flower needs lots of bright light, moist soil and high humidity, although some of the newer hybrids - many of which are quite compact, extremely lush and will bloom almost all year (taking just a short break during the winter) - tend to be a little less fussy about the levels of humidity around them.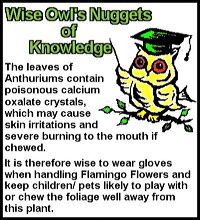 It also needs to be kept quite warm and, although it tolerates temperatures between 18 and 24 degrees C (65 to 75 degrees F), it does best within a constant temperature of 21 degrees C (70 degrees F). Drafts and temperatures below 10 degrees C (60 degrees F) should be avoided at all cost, because they will cause the plant's leaves to go yellow, as will over-watering.
The glossy leaves of this house plant can be kept clean and dust-free by wiping them with a damp cloth. A fine misting with water at room-temperature will also work (as well as helping to increase humidity), but it is vital to ensure no droplets are left on the foliage, as this will encourage fungus growth. Appearing as brown, dry spots, such infections will have to be treated with fungicides.
When the roots of young Flamingo Flowers fill the plant's container, they need repotting. This should be done in spring. Older plants typically only need repotting every two to three years.
In any case, the new pot should be only a single size larger than the old one, and must have drainage holes, as good drainage is vital for the prevention of root rot.
The plant should be set fairly high, so its crown should sit just above the line of the soil. Should roots make it to the surface before repotting is due again, they can be covered with a little additional potting mix.
Repotting is also a good time to divide Flamingo Flowers for propagation. Taking care not to damage the somewhat tender roots of this plant both during repotting and division, it is important to ensure that each separated part contains a minimum of two rhizomes.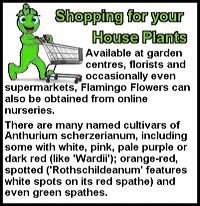 If seeds are used for propagation, it is essential to ensure they are fresh and still moist, as old, dry seeds simply will not germinate. Each seed should be placed into its own 10 cm (4 in) pot, which should then be covered with a mason jar in order to maintain high humidity. The temperature of the growing medium should be kept constant at 26.67 degrees C (80 degrees F) until germination - which should take 20 to 30 days - is complete.
Flamingo Flowers, like other types of Anthurium, are susceptible to invasion by aphids, scale insects, mealybugs and thrips. Regular inspection of the plant for signs of such infestations is therefore important.