December 31 2012
2
31
/

12
/

December
/

2012
12:17
Plant Summary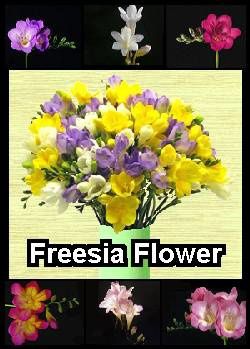 Botanical Name: Freesia hybrids
Type: Flowering
Origin: Freesia Flowers originate from South Africa.
Height: The stems of Freesia hybrids can grow to heights of around 45 cm (18 in), and often need staking to keep them upright.
Soil: A good general purpose potting mix will be sufficient for this house plant.
Light: Freesia hybrids need plenty of bright light, and can handle a little direct, cool morning sunlight.
Humidity: This plant prefers average to moderate levels of humidity.
Temperatures: Until the corms of the Freesia Flower start sprouting, they should be kept fairly warm at temperatures around 27 degrees C (80 degrees F). The plant should then be kept cool - at temperatures ranging between 16 and 18 degrees C (60 to 65 degrees F) - during the growing and flowering periods.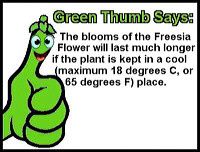 Water: The soil should be kept slightly moistened. Over-watering can cause corms to rot, and should be avoided.
Fertiliser: From the appearance of the first flower buds until flowering ends, the Freesia Flower should be fed once a fortnight, using a diluted (1:1) liquid fertiliser high in potassium.
Propagation: Although the corms will not bloom again when kept indoors, they will produce offsets, which can then be planted. Once flowering has finished, the foliage should be allowed to naturally die back. After cutting off the stems, the offsets can be removed and stored in a dry place until planting.
Description and Care Tips
Funnel-shaped and highly fragrant, the blooms of Freesia hybrids may be single or double, and come in a selection of gorgeous colours - from white, pink or red through yellow and orange to lavender or bi-coloured varieties. The slender, long flower stems are surrounded by strap-like, long leaves. Often purchased as cut flowers, the sweet scented, beautiful blooms of Freesia Flowers can be enjoyed far longer if the Freesia is grown as a house plant.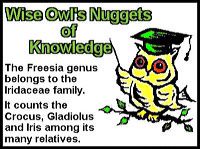 The corms of Freesia Flowers are easily forced into blooming, and should be planted from late summer into early autumn for an abundance of blooms in winter or early spring. To force Freesia Flowers, a fairly shallow container - which should have a minimum depth of 7 cm (3 in) - should be filled loosely with a suitable potting mix.
The corms are then set - pointed end up - lightly into the potting mix. They should be approximately 5 cm (2 in) apart, and should not be pressed into the potting mix, as it needs to remain loose enough to allow the tender roots to easily grow through it. They are then topped with an additional 2.5 cm (1 in) of potting mix (again keeping it loose) and watered minimally.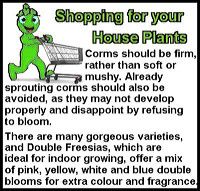 The pot then needs to be moved to a warm - 27 degrees C (80 degrees F) - and bright spot for around 8 weeks, keeping the mix barely moistened throughout. Once the emerging shoots reach a height of around 5 cm (2 in), the pot should be moved to a cooler - 16 to 18 degrees C (60 to 65 degrees F) - bright location until buds begin to form. To ensure even growth, the pot needs to be turned every two days or so. Keeping Freesia Flowers in a bright spot - but out of direct sunlight - when in full bloom will help to prolong the blooming period.