December 31 2012
2
31
/

12
/

December
/

2012
14:21
Plant Summary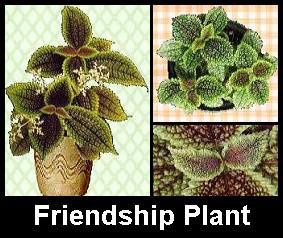 Botanical Name: Pilea involucrata
Type: Foliage
Origin: The Friendship Plant has its native habitat in South and Central America.
Height: Pilea involucrata typically grows to a height of around 30 cm (12 in).
Soil: Friendship Plants are happiest in African Violet or peat-moss potting mixes.
Light: This house plant needs moderate to bright light, but should not be placed into direct sunlight.
Humidity: As this plant likes high humidity, it is best to keep levels above 50 per cent (relative humidity) with the help of a humidifier or a wet pebble tray.
Temperatures: Being a tropical plant, Pilea involucrata prefers room temperatures of around 18 to 27 degrees C (65 to 80 degrees F).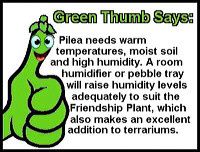 Water: While the soil can be kept a little drier during the winter, it should be kept evenly moistened from early spring until late autumn.
Fertiliser: During spring and summer, Friendship Plants should be fed with a diluted (half and half) balanced fertiliser on a monthly basis.
Propagation: Pilea involucrata can be propagated via easy rooting stem tip cuttings. These should be taken in spring, placed into moist potting mix (firmed down around stems to keep them upright) and covered with a plastic bag (around the complete pot) to retain high humidity.
Description and Care Tips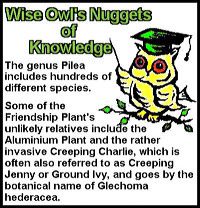 The ovate leaves of the Friendship Plant grow in opposing pairs and may be smooth, with silvery veins (like in the 'Norfolk' variety) or quilted and apple-green with veins that are deep bronze in colour, like those of the popular 'Moon Valley' variety. This latter variety is also more upright than the species, which is effectively a trailing plant, and the undersides of its deeply textured, toothed leaves are dark-red. In spring, clusters of pinkish-green, tiny flowers may emerge, but these flowers are generally considered to be insignificant in comparison to the gorgeous showy foliage.
To keep this fast-growing house plant looking full and bushy, yet compact, the growing tips - which root well and can be used for propagation - can be pinched out. It is certainly worth propagating this house plant, as the lower leaves of older plants tend to drop off, resulting in the plants becoming rather leggy and a little unattractive.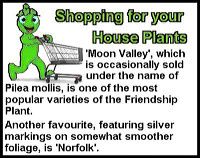 Soggy or dry soil may also cause the leaves to drop off, so keeping the balance just right when watering Friendship Plants is essential. Given adequate humidity levels, warmth and careful watering, Pilea involucrata will reward its owner with beautiful foliage for many years to come. Keeping the plant away from direct sunlight (as this will scorch the leaves), drafts and heat vents (which will dry the surrounding air too much) will also help to keep this lovely house plant a joy to behold.