March 30 2013
7
30
/

03
/

March
/

2013
20:34
Plant Summary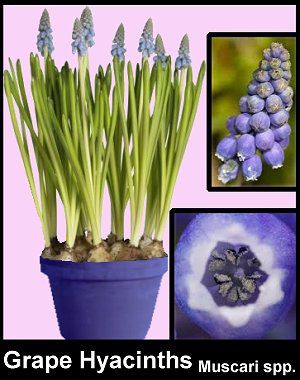 Botanical Name: Muscari spp.
Type: Flowering
Origin: Grape Hyacinths originate from Western Asia.
Height: Muscari spp.varieties can grow to heights of around 10 to 20 cm (4 to 8 in).
Soil: This plant will do well in any quality potting mix and can also be quite easily grown in water.
Light: During the cold treatment (see below) the Grape Hyacinth's bulbs need to be kept in the dark (covered with a pot, box or black bag). Flowering plants need lots of bright, but indirect light and should not be placed into direct sunlight.
Humidity: Muscari spp. are happy with average levels of humidity, so no measures to raise levels are required.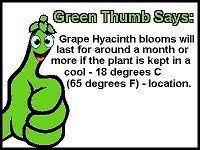 Temperatures: This is one house plant that likes to be kept cool - temperatures are best kept at 4 to 18 degrees C (40 to 65 degrees F) to prolong blooming.
Water: The soil for this plant needs to be kept evenly moist.
Fertiliser: There is no need to fertilise the Grape Hyacinth.
Propagation: Once forced into blooming indoors, Grape Hyacinths do not bloom again. They do, however, produce offsets that can be planted outdoors. For this purpose, the foliage should be allowed to die off naturally before cutting it off. The bulbs then need to be stored in a dry, cool place for the summer and can be planted in the garden during the autumn.
Description and Care Tips
Grape Hyacinth bulbs produce thick, upright flower stems surrounded by arching, narrow leaves. Each flower stem carries a cluster of lightly fragrant, rounded flowers (resembling a bunch of grapes) in lovely shades of lavender-blue, purple, white or pink (depending on variety).
Naturally flowering in spring, Muscari spp. can be forced into blooming during the winter months by tricking them into behaving as though they had a cold winter rest followed by the warmth and light of spring. When forced indoors, flowers will last for a month or so, providing temperatures are kept low (see above).
Forcing Grape Hyacinth Bulbs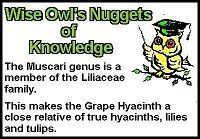 For mid-winter blooms, it is best to start this process during the month of October, although anytime during autumn is fine - in any case, bulbs will require a cold treatment lasting for 10 weeks in order to bloom.
Begin by filling a pot - which must be at least 7 cm (3 in) deep and have drainage holes - loosely with a quality potting mix. Set the bulbs loosely (do not press them in) into the potting mix with the pointed end up. They should be close without touching one another, and the tips should be level with the rim of the pot. Add potting mix to the top, ensuring the tips remain exposed.
After watering the pot thoroughly and discarding the drained off water, move the pot into a cool - minimum temperature should be around 4 degrees C/ 40 degrees F - dark place (basement, garage or even a fridge, as long as it is guaranteed temperatures do not drop to freezing point). If necessary, cover the pot with a box, an upturned pot or a black bag to keep it dark.
The pot needs to remain in this location for 10 weeks, keeping the potting mix barely moist throughout. When the new shoots reach a height of about 5 cm (2 in), move the pot to a slightly warmer - 10 degrees C (50 degrees F) - location with low light. Increase watering slightly to ensure the soil is kept evenly moistened.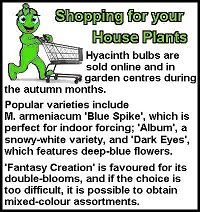 Move the pot gradually closer to a sunny window over the next couple of days. To make sure the plant grows evenly, turn the pot regularly (quarter turn per day). Once fully in bloom, the plant should be kept at a temperature of around 18 degrees C (65 degrees F) in a bright location (but out of direct sunlight) to prolong blooming.
Alternatively, place the bulbs into paper bags for the chilling period, then place them into hour-glass shaped hyacinth bulb vases once they begin to sprout. The vases should be set in a cool, bright location, and the bottom needs to be kept filled with water. It is, however, essential to ensure the bulb does not sit in the water, as this will cause it to rot.