April 3 2013
4
03
/

04
/

April
/

2013
19:28
Plant Summary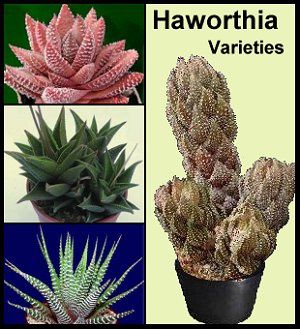 Botanical Name: Haworthia species
Type: Succulent/ Cactus
Origin: Plants of the Haworthia genus originate from South Africa.
Height: How tall these house plants grow depends on the species, but in general, most will only grow to heights of around 7.5 to 15 sm (3 to 6 in).
Soil: Succulent/ Cactus potting mixes are ideal, but a mixture of one part of sharp sand with two parts of a peat-moss potting mix works equally well.
Light: Haworthia species like bright light, but need to be kept out of direct sunlight to prevent shrivelling of the leaves.
Humidity: These plants are quite happy with average humidity levels.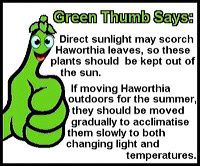 Temperatures: From spring through into autumn, Haworthias are content with average room temperatures between 18 and 24 degrees C (65 - 75 degrees F). If possible, these plants should be kept cooler - at temperatures around 16 degrees C (60 degrees F) - during the winter months.
Water: The soil for these plants should be allowed to dry out almost completely between watering sessions.
Fertiliser: Monthly feeds with a succulent fertiliser should be given during spring and summer. When growth slows down - late autumn and winter - feeding should be stopped.
Propagation: Haworthias produce offsets that can be removed and used for propagation by planting them into their own pots in spring.
Description and Care Tips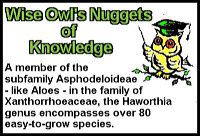 The vast majority of Haworthia species remain comparatively small, although some species feature inflorescences that can reach heights of around 40 cm (16 in) or more. Forming either clumps or remaining solitary, these succulents come in a variety of colours, and some may be spotted; some are striped and some are just plain green.
The consistency of leaves may also vary - some of these gorgeous little house plants have tough, firm leaves, while others are altogether much softer, and others still have translucent panels allowing sunlight to reach their internal photosynthetic tissue.
What most of them do have in common are small, very similar looking white flowers - and a tolerance for being neglected once in a while. As long as they get plenty of indirect light and the occasional watering, they are typically quite happy for years.
It is necessary to be careful when watering these plants, as getting the leaves wet can quickly lead to rot. Because Haworthias tend to shed old roots in spring, repotting them during this period is a good way of ensuring that fresh, debris free potting mix keeps them fit and well.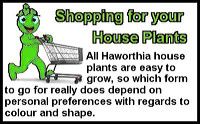 This is also a good time to remove and pot any offsets for propagation. As the roots of this plant are fairly small, they can be planted into fairly shallow containers, and - if a container without drainage holes is used - a thin (2.5 cm / 1 in) layer of pebbles placed into the bottom will provide all the drainage needed.
Whether on their own or set besides other succulents and/ or cacti in pretty little dish gardens, Haworthias certainly make a great, easy-to-care-for addition to any collection of house plants.