April 14 2013
1
14
/

04
/

April
/

2013
19:39
Plant Summary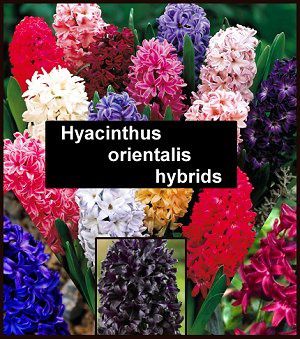 Botanical Name: Hyacinthus orientalis hybrids
Type: Flowering
Origin: Hyacinth Flowers originate from Turkey.
Height: Hyacinthus orientalis hybrids can grow to heights of approximately 20 to 20 cm (8 to 12 in). As the flower heads tend to get quite heavy, they may require staking.
Soil: These house plants are quite content with any quality potting mix and can also be grown in water.
Light: During the cold treatment (see below), bulbs need to be kept in the dark. Once shoots appear, they need to be gradually moved into bright positions.
Humidity: Hyacinthus orientalis hybrids are happy in areas with average levels of humidity.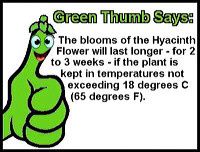 Temperatures: Hyacinth Flowers are best kept comparatively cool at temperatures ranging between 7 and 18 degrees C (45 to 65 degrees F).
Water: The potting mix for these house plants should be kept evenly moistened.
Fertiliser: Fertilising is not required for these plants.
Propagation: Hyacinth bulbs that have been forced to bloom inside will not bloom again. They do, however, produce offsets that can be stored in a cool, dry location (after foliage that has been allowed to naturally die back has been cut off) until being planted in the garden in autumn.
Description and Care Tips
Although Hyacinth Flowers can be purchased in full bloom from florists during the winter months, it is far more fun - and quite easy - to purchase bulbs, force them and watch them grow from scratch (see how below).
Each individual bulb will produce a thick stem - surrounded by upright, narrow leaves - carrying dozens of waxy, small flowers. Highly fragrant, these flowers may - depending on variety - be anything from white through a host of pastel colours to deep, vibrant reds, blues and purples.
Forcing Hyacinth Flowers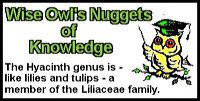 The process of getting the naturally spring-flowering Hyacinth Flower to bloom in the middle of winter is known as forcing. This essentially involves tricking the bulb into acting as though it has gone through the cold winter months before coming into the sunshine and warmth of spring - subsequently forcing it to bloom at a time when it would not normally do so.
For this reason, it is first of all necessary to give bulbs the cold treatment (this is not necessary if pre-chilled bulbs were purchased). Best started in October (if blooms are desired during mid-winter), this is done as follows:
Fill a shallow (minimum 7 cm/ 3 in deep) container with drainage holes loosely with a good potting mix
Set bulbs closely (though not touching) with their pointed end up into the mix
Keep the tips of the bulbs level with the rim of the container and do not press them into the mix (mix should remain loose to allow roots to easily grow through it)
Loosely cover with more potting mix (leave tips exposed)
Water thoroughly
Discard drainage
Move container into a cool (not below 4 degrees C/ 40 degrees F) and dark location (if necessary, cover with a box/ upturned flower pot)
Do not store pot/s near ripening vegetables/ fruit, as the ethylene gas they give off may damage bulbs
Keeping the potting mix barely moist, leave pot/s in cold storage for around 12 weeks
By the end of this period, the emerging shoots should have reached a height of around 5 cm (2 in). The pot can now be moved into a slightly warmer (10 degrees C/ 50 degrees F) location with fairly low light intensity. Watering should now be increased sufficiently to keep the potting mix evenly moistened.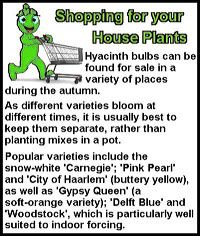 The plant can then be moved gradually - over a period of a few days - towards a sunny window. In order to ensure even growth, the pot should be turned daily. Once in full bloom, the plant should be kept in bright, but indirect sunlight to prolong blooming.
Alternatively, bulbs can be given the cold treatment in a paper bag. Once sprouting, they can then be placed into the top section of hour-glass-shaped Hyacinth vases, the bottom of which should be kept filled with water. To prevent the bulb from rotting, it is vital to ensure it does not actually sit in the water.
Staggering the start of cold treatments/ planting bulbs - perhaps at weekly intervals - will provide a succession of flowering Hyacinths throughout winter and early spring.