April 21 2013
1
21
/

04
/

April
/

2013
08:38
Plant Summary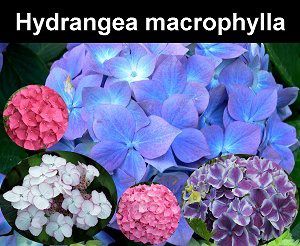 Botanical Name: Hydrangea macrophylla
Type: Flowering
Origin: Hydrangea macrophylla originates from Japan.
Height: Hydrangeas kept indoors grow to heights of around 60 cm (2 ft).
Soil: In particular blue varieties of this house plant require lime-free, peat-based potting mixes.
Light: These plants should be provided with a minimum of four hours worth of bright, but indirect light per day.
Humidity: Hydrangea macrophylla is quite comfortable in environments with average levels of humidity.
Temperatures: Cool to average temperatures ranging between 7 and 18 degrees C (45 to 65 degrees F) are best for this house plant.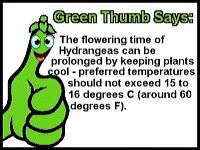 Water: The potting mix for Hydrangeas must be kept evenly moistened throughout their growing and flowering seasons. Soggy soil should, however, be prevented by providing adequate drainage. To prevent the potting mix from becoming alkaline, lime-free water should be used. During the winter months, the potting mix should be kept just barely moist.
Fertiliser: A balanced (10-10-10) liquid fertiliser should be diluted (50:50) and fed fortnightly to the plant throughout spring and summer. Alternatively, a slow-release fertiliser can be used (once in spring, then again in summer).
Propagation: Hydrangea macrophylla can be propagated via stem tip cuttings. The best time to take these cuttings - which should measure approximately 10 cm (4 in) - is spring or, at the latest, in early summer. The cuttings should root well in moistened potting mix.
Description and Care Tips
While there are dozens of Hydrangea species, Hydrangea macrophylla is the best choice for indoor growing. Available in hundreds of different varieties, this species - also known as the 'Mophead' Hydrangea - certainly knows how to really show off in style.
The woody stems of this perennial shrub are densely covered by deep green, large oval leaves. In summer, huge round clusters of red, pink or white; violet-blue or blue small flowers all but completely cover this house plant.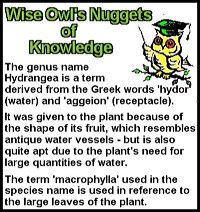 One of the main factors to remember when caring for Hydrangea macrophylla is that this plant needs moist soil - allowing it to dry out is likely to kill it. First signs of the soil getting too dry are yellowing leaves that eventually fall off. Provision of adequate indirect light (see above) is also vital for the health of this house plant.
The choice of potting mix is also important, as varying pH factors can change the colour of a plant's flowers. It should, however, be noted that not all varieties will change colour, so it is important to get the desired colour and then attempt to maintain it, rather than hoping to achieve a specific colour by varying the soil's pH factor.
In essence, blue Hydrangeas require acidic soil with pH factors of 5.5 or below. Adding sulphur while the plant is in bloom will also help to maintain the lovely blue colour.
Neutral pH factors ranging between 5.5 and 7 can result in purple flowers or a mix of blue and pink flowers, while alkaline soil with a pH of 7 or higher is best to maintain the colour of pink varieties.
Unless size control is necessary, Mophead Hydrangeas do not require pruning, although cutting back approximately one third of the plant's older stems will result in a fuller, bushier appearance. If pruning is required, it should be done after the last of the flowers have faded away, avoiding damage to stems - and subsequently endangering the health of the plant - by tearing. Using sharp and clean pruners, stems should be cut - just over 1/2 cm (1/4 in) above leaf axles - at an angle of 45 degrees.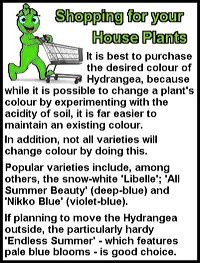 To over-winter an indoor Hydrangea, the plant should be repotted once flowering has finished, followed by cutting back stems by half. Kept cool throughout most of the winter months, the plant should then be moved into a slightly warmer environment near the end of winter in order to encourage blooming.
Dried Mophead Hydrangea flowers make exceptionally beautiful additions to dried flower arrangements. To preserve the colours of the flowers, flower stems should be allowed to dry while still on the plant. Once blooms have a papery feel to them, the stems can be cut off. All leaves should then be stripped off, followed by hanging the stems upside down (this will prevent bending) in a dry, dark room to finish drying.
It is, by the way, best to keep stems separate during this final drying period, as bunching them together will not only prolong drying, but may also cause some of the flowers to get squashed. Dried in this fashion, the flowers will turn to beautifully soft shades of rose, violet, blue and green.