January 22 2012
1
22
/

01
/

January
/

2012
13:50
Indoor house plants have been cultivated from plants that are found in the wild all over the world. Just like they all have different needs with regards to watering and lighting, they also require different levels of humidity. In particular during the winter months, when hot air is being blasted into rooms, the air can get too dry for some tropical plants.
High Humidity-loving Plants
The list of plants that prefer comparatively high levels of humidity is endless, but some of the most common tropical indoor house plants needing high humidity include, for example, the Silver Nerve plant, Fittonia verschaffeltii 'Argyroneura' (and other Fittonias, like the red variety, for instance), Maidenhair Ferns, like the Adiantum capillus veneris, and some species among the Pilea family.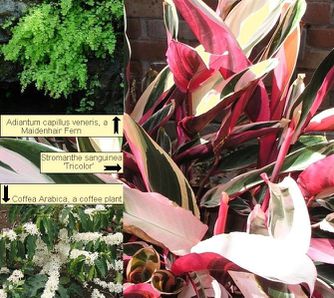 Other indoor house plants with high humidity requirements are, to name but a few, coffee plants, such as the Coffea arabica or Coffea canphora, which is more commonly known as the Robusta; Stromanthes, such as the Stromanthe sanguinea 'Tricolor; various Heliconias, including Heliconia rostrata and Ginger plants, Zingiber officinale. Musa banana plants such as the Musa basjoo, Musa cavendishii and Musa zebrina, also prefer relatively high humidity.
Increasing Humidity
Naturally, it is necessary to raise humidity levels within the home if these plants are to survive. If plants are all over the house, a whole house humidifier may be advisable, but for plants in a single room, a room humidifier will be quite sufficient. Alternatively, humidity loving indoor house plants plants can be kept healthy by misting them daily - or as often as required - with a fine mist of water at room temperature.
Setting the plant container on a tray with wet pebbles will also increase humidity around the plant. For this purpose, the tray should be filled with just enough water to leave the bottom of the pot and the top of the pebbles dry. The water evaporates, creating the required humidity for the plant. Humidi-Grow trays offer another alternative. Here, the overflow of pots with drain holes is collected through a grid, then evaporates, creating an effect similar to the pebble tray.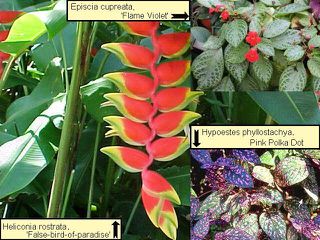 Plants also create their own humidity by emitting moisture. Placing indoor house plants together in groups will assist them in generating some of the humidity they need for each other. This will help, but it may still be necessary to employ one of the above methods to help them along, especially if there is a fireplace blazing away in the room as well.
Signs of Plants lacking Humidity
Tropical indoor house plants are rarely cheap, and it would be a shame to lose them as a result of low humidity. Any proud owner of such plants will therefore want to look out for the most common signs indicating that a plant is suffering from conditions that are too dry. These signs are easily spotted, and include wilting, edges and/ or tips of the leaves turning brown and poorly developed flower buds. Flower buds that wither soon after opening may also indicate that the plant's environment is not humid enough.
By looking out for these signs and taking the necessary steps to increase humidity, owners of tropical, high humidity loving indoor house plants will ensure that they can enjoy the beauty of their plants for many years to come.