January 21 2012
7
21
/

01
/

January
/

2012
10:26
Indoor house plants are a joy to behold and will make an environment altogether more pleasant. Just like other plants, they will assist in turning carbon dioxide into new oxygen, making the air in the room fresher and healthier. While some consist purely of often very attractive foliage, others will occasionally flower, providing a splash of colour. Although even exotic variations are typically comparatively easy to care for, knowing what a plant needs is important if it is to survive.
Light Requirements
One of the errors many people make when trying to look after indoor house plants is placing them into the wrong position. This may sound strange, but like garden plants, some indoor plants love to sit in bright sunlight, while other species much prefer to be tucked away in a shady corner. Others still need a combination of the two. Essentially, an indoor house plant's growth is regulated by two factors of lighting. One of these factors is the amount of light, or, to be more specific, the number of daylight hours the plant is exposed to.
Factor number two is the intensity of light the plant receives. Levels of intensity required by indoor house plants can range from full shade to full, intense sunlight, and anything in between. The light intensity requirements of indoor house plants can basically be split into four main categories, namely fully shaded, partly shaded, bright and sunny. Grower's instructions on plants will use these categories for placement suggestions. Knowing what is meant by these terms will help to give the plant the best possible chance to thrive. So what sort of position do these terms suggest?
Fully shaded, or shady, Locations
Indoor house plants with a preference for shady locations should be placed in the corner of a room, a hallway or staircases. They will be fine near a window that is shaded by trees, but need to be a minimum of six feet away from windows facing south or south-west.
Partly shaded Locations
Plants that prefer partial shade, or low light, are best placed in or near east facing windows, where they will only receive a few hours of cool morning sun, or in a window that faces north. These plants need to be at least three to five feet away from any windows facing south-west or south.
Bright Locations
For indoor house plant that like bright, indirect sunlight, a position about four to five feet from west or east facing windows, or three to five feet from south-west and south facing windows will be ideal. In short, a place where the plant can receive several hours worth of daylight without being directly exposed to sunlight is perfect.
Sunny Locations
A window sill flooded by sunlight, positions within two feet of south or south-west facing windows or a sun room will provide indoor house plants that like lots of sun with all the light they need. During summer, it i, however, wise to check them regularly, as extremely hot summers may result in even these plants being scorched.
Signs of too much Light
If indoor house plants are getting too much light, their leaves may begin to look faded or even become totally dry and fall off. Scorched, brown patches on the leaves also point to too much light, as will wilting during midday periods.
Signs of not enough Light
Insufficient light can be detected through spindly growth, often leaving long spaces between individual leaves. A lack of growth, new leaves being consistently smaller than already existing ones, yellow and falling off lower leaves and new shoots reaching for light are also signs of insufficient lighting. On variegated leafy indoor house plants, a lack of light may result in the leafs turning a solid colour.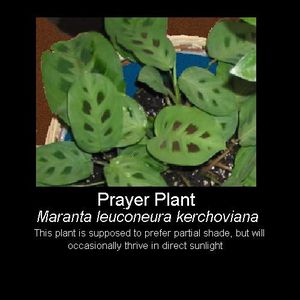 Exceptions to the Rule
While it is generally best to follow the instructions provided, sometimes a plant will have other ideas. The prayer plant, Maranta leuconeura kerchoviana, for instance, is typically sold with instructions to keep it in a partially shaded position. A few years ago, the author and her neighbour each bought one of these plants. The author simply stuck her plant into a south-facing window.
Within a couple of weeks, the plant exploded with growth, having to be re-potted and separated at least once a fortnight to keep up with its space requirements. Her neighbour's plant, on the other hand, was placed into the suggested partially shaded position. Its leaves very quickly turned a solid green and the plant simply would not grow until it was placed into a window. Strangely enough, some of the separated parts of both plants then preferred partly shaded positions. A little trial and error is obviously necessary, and by looking out for the signs, mistakes can soon be rectified.